AP McCoy: Tributes flow in after his 4,000th winner
Last updated on .From the section Horse Racing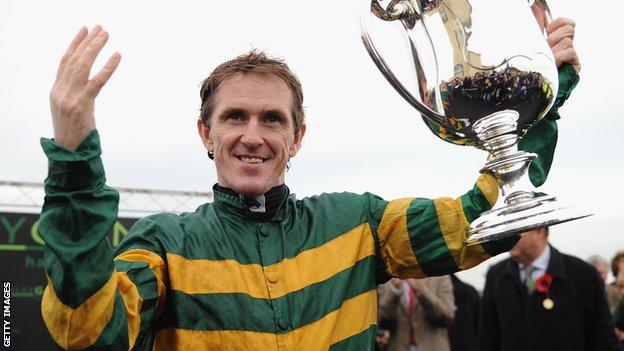 Jockey AP McCoy has created his own piece of sporting history by riding his 4,000th winner on board the Jonjo O'Neill-trained Mountain Tunes at Towcester.
Tributes flooded in for the 18-times champion jockey, who has dominated his sport since his first winner at Thurles in 1992 when he rode Legal Steps to victory.
Fellow jockey Richard Johnson
"It's an amazing achievement. What he'd already done was phenomenal. He doesn't relent at all. He's as keen now as he was when he first came over from Ireland.
"What he has achieved in the last 15 to 20 years is incredible. He has changed riding, especially in the National Hunt field, and moved it forward.
"It's been a pleasure to ride with him and you'd struggle to find a nicer person to work with, either, on a day-to-day basis. He's as hungry as he's ever been, but he's a gentleman as well."
Martin Pipe, 15-times champion jumps trainer and McCoy's former boss
"I'm sure he rode over 1,000 winners for me. It's absolutely amazing. AP is just absolutely phenomenal. Always Perfect - his two initials.
"He's absolutely incredible. Not only is he a great friend, he's a brilliant jockey and a brilliant role model for the young jockeys to follow. He's totally dedicated to the sport and gives every horse, whatever grade it's in, be it a seller or a Gold Cup, the same ride - he's so determined to succeed. He's unparalleled in the history of racing.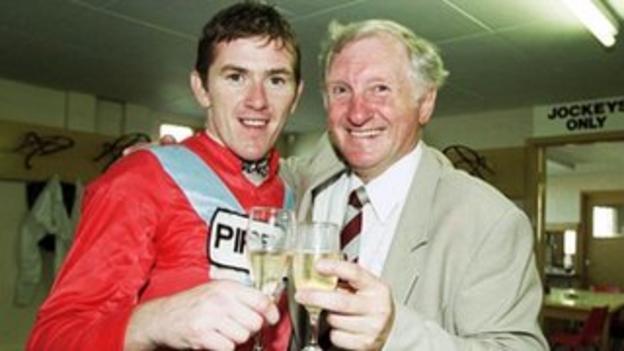 "He's such a lovely person with it. He was voted Sports Personality of the Year and quite rightly so. He's done a lot for our sport and we're all very proud of him and very proud of what he has achieved.
"He's a fantastic, amazing guy and so dedicated. He's had plenty of injuries along the way. He's so determined, focussed and concentrated.
"I remember one day ages ago, he came off on the bend at Chepstow. He was stretchered off and I thought 'oh dear I've got to find another jockey'.
"I thought he won't ride again today. I ran down and he said he would ride it. It was two races later, he did and came out and won. He is made of steel and a lovely guy with it."
Trainer Jonjo O'Neill
"It's just amazing. You can't put words to it, but the man is fantastic. He's a fantastic man and a fantastic jockey.
"Old horses, young horses, monkeys. You name it, he can win on it, that's the fantastic thing about him - it doesn't matter what it is he just wants to ride winners.
"I'm just very lucky to be in the position where I get to use him most of the time. He gives great feedback to owners. We're blessed to be around him."
Wife Chanelle McCoy
"I didn't think he was going to do it [on Midnight Tunes]. It couldn't be an easy ride for him. It was nearly too good to be true.
"His dad and brother are here and Mr McManus and this is just poetry. Our hearts were in our mouths but it was a typical AP ride and we will celebrate tonight."
Champion Flat jockey Frankie Dettori
"AP is the leading rider of a generation and perhaps every generation to come.
"His will to win is unsurpassed and his spirit is unquenchable. What is more amazing is that he has time for everyone and is a genuinely good guy."
Eight-time champion jockey Peter Scudamore
"I didn't think it was humanly possible to do what he's done. He's been a fine example to us all. What he's done is unbelievable."
Seven-time champion jockey John Francome
"It's an extraordinary amount of work that goes in to ride 1000 winners, so to be so competitive and driven and relentless to have ridden 4000 - I can't get my head around it. I just remember the slog and the driving and the going without your food - people don't realise how hard it is and how hard he's worked to achieve this.
"His strike rate has been extraordinary. I know he's ridden for Martin Pipe and Jono [O'Neill] and he's got a great agent but he's still the one who has had to go out there and do it. But he loves doing it, so it's never been an effort to him. It's been a pleasure to watch and has given endless hours of satisfaction to racegoers up and down the country.
"He's always a giver of his time, he's very helpful to young lads, he's always been well liked and he's a great ambassador for the sport. He is the type of sportsman every sport dreams of having."
Noel Chance, trainer of McCoy's first Gold Cup winner Mr Mulligan
"It's mind-boggling what he's achieved. I know records are there to be broken, but I know I won't see it in my lifetime and I'm not sure my grandchildren will see it in theirs - that a jockey will surpass the number of winners he has.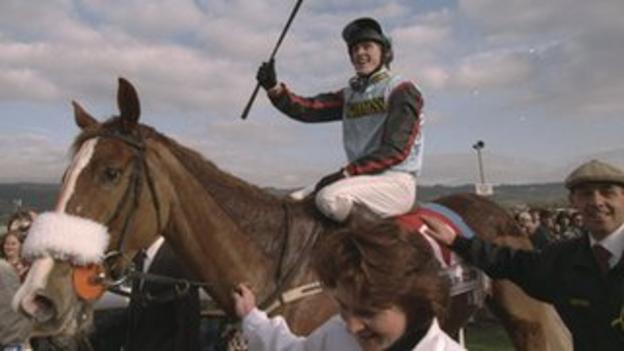 "There are two main things about Tony McCoy. One is his great talent and passion for the game and secondly he's such a great human being. No matter what you ask Tony to do for you it was never a problem, he would do it.
"He is also a great judge. I remember when he picked himself up after a fall from Mr Mulligan round Kempton (in the 1996 King George VI Chase).
"He said 'this horse will win the Gold Cup and I'll ride him'.
"He did start to have second thoughts a few weeks before the race when the horse was lethargic to say the least, but he stuck by it and the rest is history."
Fellow Irish jockey Barry Geraghty
"His drive day-to-day and his attitude are unbelievable. To get to 4,000 is some achievement.
"It doesn't matter if it's Cheltenham or Kelso his determination is the same, and his ability in the saddle goes without saying.
"Brave Inca's win in the Champion Hurdle was AP at his best but there are so many.
"We've had some great clashes down the years. He's a hard man to get past, and likewise he's the last person you want challenging you in a finish."
Multiple champion jumps trainer Paul Nicholls
"To get to 4,000 winners is a massive achievement and it's richly deserved. Nobody deserves it more than he does.
"He puts a lot of effort into everything he does, he's a brilliant jockey and a great man. I can't say enough about him."
Racing presenter Clare Balding
"It is the most extraordinary achievement. There is no way his horse was going to win but AP doesn't give up - he is the last person to give up and will never think he can't win.
"He is constantly pushing the boundaries of what you think can be achieved. He has an amazing strike rate in a sport where the injury rate is so high and he is constantly working at a stone or a stone and a half under what should be his natural bodyweight.
"It isn't a glamorous sport and he doesn't do it for the glamour - it is because he likes riding winners.
"He is the ultimate sportsman because he works so hard at it."