Trainers face tighter BHA drugs rules after Sungate inquiry
Last updated on .From the section Horse Racing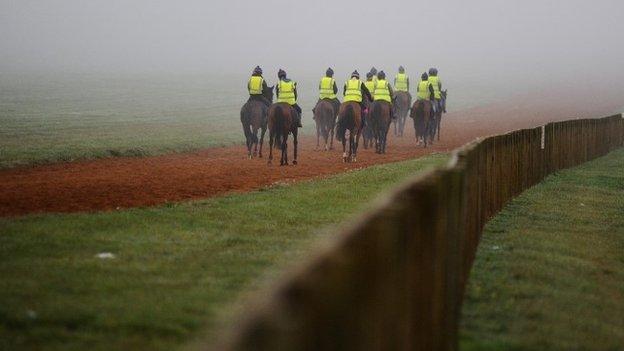 Rules on banned substances are being tightened by the British Horseracing Authority after nine trainers escaped charges in the Sungate steroids probe.
Trainers found to have breached rules could face action, irrespective of whether horses have failed drugs tests.
Trainer Gerard Butler is awaiting his fate after nine horses tested positive for a banned anabolic steroid contained in the Sungate veterinary product.
Nine others did not face action because no positive samples had been obtained.
"The Sungate investigation highlighted a scenario which was not sufficiently or appropriately protected against by the rules of racing," said Adam Brickell, the BHA's director of integrity, legal and risk.
"The fact that charges could not be brought against trainers even though there was evidence that prohibited substances had been administered to horses in their care or control clearly needed to be addressed.
"Under the revised rules, if we have sufficient evidence that certain prohibited substances have been administered to horses in the care or control of a trainer, we are now in a position to take action."
The new rule comes in to effect from 1 December and also allows for a horse to be disqualified retrospectively from a race without the need for a positive sample.
Butler, 47, has admitted injecting horses with the Sungate product for injured joints, but said vets assured him the substance did not breach rules.
He faces seven charges, including conduct prejudicial to the sport, and could face a penalty from a fine to a 10-year ban if found guilty.
It is thought the disciplinary panel is most likely to deliver its verdict next week, although the exact date is not yet known.
A wider investigation, separate to another inquiry which saw Godolphin trainer Mahmood Al Zarooni given an eight-year ban for doping horses, began after Butler suggested more than 100 horses in Newmarket were treated with Sungate.
Officials examined the veterinary records of 38 trainers and found nine of them, and a total of 43 horses, had been treated with the product since early 2010.