Champion trainer Richard Hannon to retire and son will take over
Last updated on .From the section Horse Racing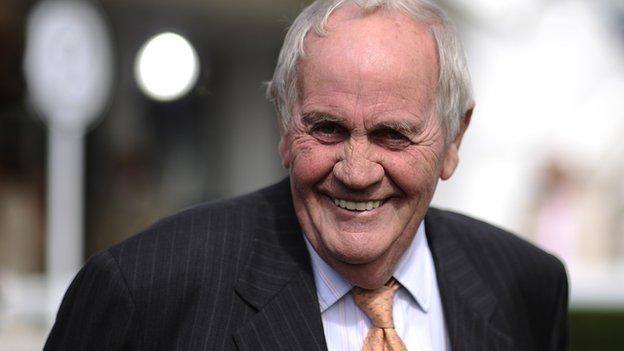 Champion Flat racing trainer Richard Hannon is to retire and will hand over to son Richard junior on 1 January.
Hannon, 68, has written to owners, including the Queen, confirming he will stand down at the end of the year.
"It has been a long career and I've trained a lot of winners but it's about time Richard got his name on the roster of trainers," he told the Racing Post.
The announcement came as his family celebrated Richard junior's 38th birthday on Thursday.
Four-time champion Hannon, who employs champion jockey Richard Hughes as his first rider, has enjoyed a distinguished career with successes in the 2013 season including 1,000 Guineas winner Sky Lantern.
With retirement moving closer in recent years, assistant trainer Richard junior has been an increasingly important figure at the family's Herridge Stables in Marlborough, Wiltshire.
He will be in charge of more than 200 horses, including leading 2,000 Guineas contender Toormore.
Hannon senior, champion trainer in three of the last four seasons, has won the Classic three times - with Mon Fils, Don't Forget Me and Tirol.
He began training in 1970 following the retirement of his father, Harry, and the victories flowed right through until his final campaign with notable triumphs for top milers Toronado and Olympic Glory.
Sky Lantern could provide one final big-race victory in the Hong Kong Mile at Sha Tin on 8 December.
"It would be nice to finish with one more biggie, and maybe Sky Lantern can make the dream become reality. She is very well and she will love the fast ground out there," he said.
Fellow trainer Mick Channon was among those to pay tribute to Hannon.
"He's a genius, there is no other word for him," said the former England footballer.
"Richard junior is a lucky lad because he has learned from a master. I've always said that all the other trainers are his apprentices."
Hannon saddled a winner for the Queen at Royal Ascot when Free Agent won the Chesham Stakes in 1999.
Her Majesty's racing manager John Warren said: "Richard junior has obviously been incredibly closely associated all the way along the line, he's been there every step of the way. Because of that, I doubt very much that anything will change - it's all about the next generation.
"He'll still make it fun and that is the main thing, when the Queen goes there she always comments how much fun she has there, it gives her so much pleasure."