Huntingdon Racecourse: Boxing Day meet abandoned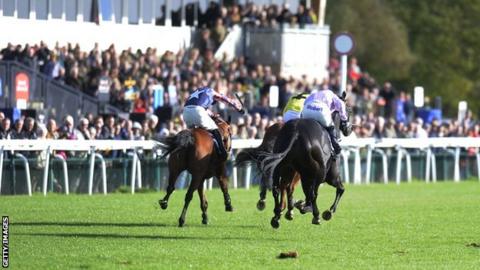 The Boxing Day meeting at Huntingdon Racecourse has been abandoned after the track became flooded.
Clerk of the course Sulekha Varma planned to inspect at 08:00 GMT on Christmas Day after the Environment Agency warned of flooding.
That inspection was brought forward to Christmas Eve and with water levels rising the card was called off.
"The water is flowing in quickly, it's started to come onto the track and the stables are already gone," said Varma.
"Unfortunately we seem to be cursed, but I suppose the one bonus is that we got the Peterborough Chase meeting in this year.
"We looked set for a mild Christmas and not long ago we were thinking we'd escape any of this.
"It's not the rain on the track that's the problem, it's the fact that it has fallen elsewhere and that is coming down to us."