Bookmakers take estimated £2m hit on returning horses
Last updated on .From the section Horse Racing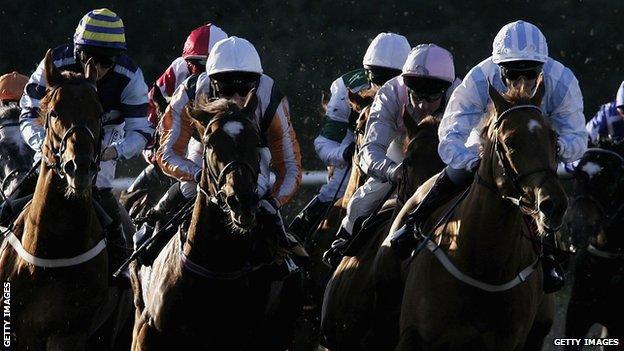 A day of frenzied betting activity on four horses cost bookmakers an estimated £2m, following the meetings at Lingfield, Catterick and Kempton.
Heavily backed Eye Of The Tiger (Lingfield 13:30 GMT), Seven Summits (Catterick 13:40), Indus Valley (Kempton 16:25) and Low Key (Kempton 18:25) all secured victories on their return from lengthy absences.
"It was a bad day [but] suggestions of a multi-million pound bloodbath are probably wide of the mark," said David Williams of Ladbrokes.
"We dodged most of the early morning frenzy but you can't stop moving trains and we got caught up in some of it as the day panned out."
Coral's David Stevens added: "Although we avoided laying some of the larger prices overnight, we did see a number of multiple bets featuring these four horses both online and in shops, and throughout the day this number increased as word of the gamble that was taking place gathered momentum.
"Victory for all four horses has cost us a six-figure payout, and based on our losses we would estimate the industry has been hit for something in the region of £2m, which although still costly, is perhaps lower than some claims."
Eye of the Tiger went off at even money, Seven Summits was the 9-4 favourite, Indus Valley was priced 4-6 and Low Key was 4-7. However some estimates suggested a £1 accumulator on the four at early prices could have brought in £13,000.
British Horseracing Authority spokesman Robin Mounsey said: "We were aware of, and have been monitoring, the situation today. In the cases of those horses who have shown an improvement in form an inquiry was held by the stipendiary stewards and all horses were routinely tested.
"It is BHA policy not to comment on specific investigations or speculation surrounding potential investigations, however an investigation would only occur if there is any evidence of rules being breached."