Sprinter Sacre to parade with Denman at Newbury racecourse

By Cornelius Lysaght
BBC horse racing correspondent
Last updated on .From the section Horse Racing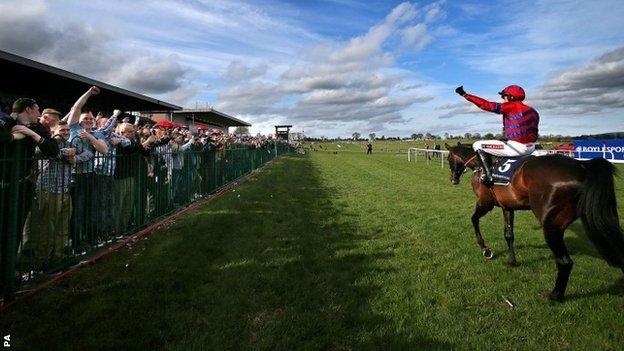 Giving a talk to students at a school in Oxfordshire this week proved highly instructive.
Alongside me were the racehorse vet James O'Gorman, and Kim Bailey, a rarity by being a current trainer to have won jump racing's "Holy Trinity" - the Grand National, Champion Hurdle and Gold Cup.
Bailey's chat was entertaining and stimulating, transporting the teenagers from Mr Frisk at Aintree in 1990 onto the Cheltenham Festival five years later and the wins of Alderbrook and Master Oats.
But it was something said by O'Gorman, one of the regular vets at stables around the Lambourn racing centre and also at Newbury racecourse, that really hit home for me.
It seems the old cliche that a big-achieving horse very often has a correspondingly large heart is actually completely true.
But there's one problem with a big heart, explained O'Gorman - its size makes it potentially more vulnerable to problems as, basically, there's more of it that can go wrong.
He cited two big-hearted heroes, retired 2008 Gold Cup winner Denman and steeplechasing star Sprinter Sacre as examples, and both have suffered from a potentially debilitating irregular heartbeat.
Denman made such a terrific recovery that subsequently he finished runner-up in three more Gold Cups and won the Hennessy at Newbury with a huge weight on his back. Sprinter Sacre is hopefully in the process of recovering.
So what an irony then to hear that the 'Lionhearts' will be side-by-side parading in the paddock on Newbury's so-called Super Saturday, Denman because it's Betfair Denman Chase day, and Sprinter Sacre as part of his recuperation.
An unbeaten sequence of ten came to an abrupt end just after Christmas when jockey Barry Geraghty, unhappy with the manner in which Sprinter Sacre was moving, pulled him up during a race at Kempton.
The irregular heartbeat was quickly diagnosed; soon afterwards, Nicky Henderson, trainer of the eight-year-old, a winner at the Cheltenham, Aintree and Punchestown Festivals last year, announced that it had righted itself.
Owned by Caroline and Raymond Mould, the horse is now back in training, under the close supervision of a cardiac specialist.
Henderson said: "The whole purpose of the exercise [at Newbury] is to give him a racecourse outing which doesn't bring back memories of what happened at Kempton.
"He'll be wearing his heart monitor which he wears constantly anyway, and he will parade with Denman. They'll make a nice double act.
"Hopefully he'll come back with a spring in his step."
It is unclear if Sprinter Sacre, who sauntered to a 19-length win in last season's Queen Mother Champion Chase at the Cheltenham Festival, will be able to return to defend his title on 12 March.
However, the race remains the ambition, and he is generally odds-on favourite to win again, though a groundswell of support behind second favourite Sire De Grugy, a brilliant Ascot winner in January, is ever-growing.
After Sprinter Sacre and Denman have done their parading, runners in the two features, the Denman Chase and the Betfair Hurdle, will race on rain-soaked going described by officials - unsurprisingly - as "heavy".