Grand National: Jockey Aidan Coleman targets Aintree success

By Cornelius Lysaght
BBC horse racing correspondent
Last updated on .From the section Horse Racing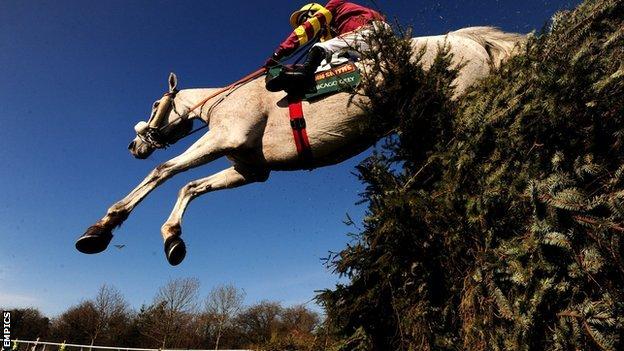 As the countdown to the 2014 Grand National gathers pace, jockey-of-the-moment Aidan Coleman can be forgiven for thinking the famous race owes him a good turn on 5 April.
In six attempts, Coleman, whose association with trainer Venetia Williams has produced a red hot vein of winter form this season, has only managed to get around once.
And, worse, in 2009, the 25-year-old was dusting himself down after a seventh fence fall as colleague Liam Treadwell steered 100-1 shot Mon Mome, a mount he'd earlier turned down, to a famous victory.
Coleman manages an exasperated chuckle at the mention of Aintree and his big race record.
"It's horrific," he said. "I've certainly had a few one-way tickets, though I won a Grand Sefton Chase [Stewarts House, December 2011] over the fences, so I take confidence from that.
"Not riding Mon Mome definitely upset me; you have to be selfish or you don't get on.
"It was obviously good for Venetia, and therefore good for me as her number one jockey, but it's so notoriously hard to win a Grand National, and I'd had a chance and missed it.
"It's not easy to be optimistic about the future after that, even though there will hopefully be more opportunities, and I was very down, definitely very down afterwards."
With an insightful glimpse into the mind of a professional sportsperson, the one-time champion conditional rider (national hunt apprentice), added: "You need to get annoyed when you get beaten on an odds-on shot, or something like that [Mon Mome] goes wrong, to improve yourself and be better and stronger. It's part of the will to win, the hunger.
"But only to a point. You need to leave some things at the racecourse, and forget about them down the motorway home, and I'm better at that now."
Twelve months earlier, it had been Mon Mome who'd given the then 19-year-old son of schoolteacher parents from County Cork (his brother Kevin was also a jockey), his first Grand National education.
The decision to give such a big break to a little-known youngster was considered something of a surprise, but at the time Williams told the BBC in Herefordshire where she trains: "He's a very talented rider and I was tossing up between natural talent versus experience. I decided Aidan's natural talent far outweighed any other options I had."
Laughing, Coleman said: "Under the rules now, I'm not sure that I'd have met the [experience] criteria for jockeys to take part, but it was OK then, so it's ironic that's the only time I got round [finished 10th]."
Modifications to the course and obstacles made ahead of last year's race, won by the now-retired Auroras Encore, a 66-1 outsider, have been widely welcomed.
The success of those changes, plus the offering of a £1m purse for the first time, is credited with a rise of nearly 40% (to 115) in the number of horses entered for the race compared to 2013.
The figure is also the biggest for five years, with the weights for the big race based on ratings being announced on Tuesday.
Having been 'knocked off' - technically 'unseated' - from The Rainbow Hunter at the Canal Turn on the first circuit last year, Coleman believes that fence, which is followed by a sharp left-handed turn, is now trickier than higher-profile hazards like Becher's Brook and The Chair.
He told me: "The Canal's the eighth first time, and with less horses going out of the race early, you have maybe 40 in contention there - and real traffic problems.
"Three of us got knocked off in the hurly-burly, horses were running into the back of each other and I do think that's now the most difficult fence."
With two months to go until the tapes go up for this year's race, Coleman's Grand National plans are fluid, though Team Williams have two possible runners in Katenko and Renard.
Meantime, the jockey, who also holds a flat racing licence, wants to concentrate on what's set to be his best ever jumps season.
He said: "I'm on course for passing last season's 89 winners and getting to 100 for the first time looks possible, which would be great.
"It shows you are doing your job day in, day out; you're keeping your form for the whole year and showing your consistency.
"Then we'll have to see what happens at Aintree.
"I've won lots of handicap chases, and plenty of big Saturday ones with Venetia this season, but winning this particular big Saturday handicap chase would be something else."