Sheikh Mohammed had 'no knowledge of illegal activities'
Last updated on .From the section Horse Racing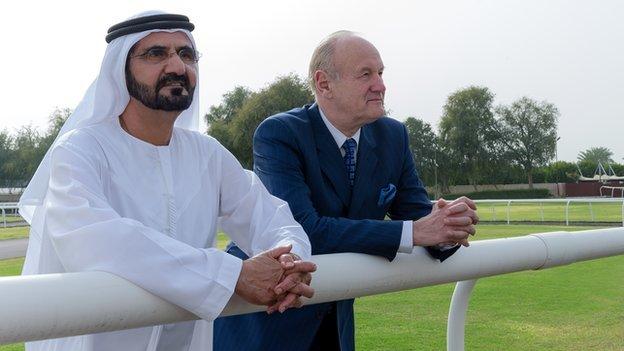 Racehorse owner Sheikh Mohammed had no knowledge of three drug-related incidents which blighted his equine operations last year, an internal report has concluded.
The sheikh hired former London police chief Lord Stevens to oversee an internal inquiry after unauthorised veterinary products were discovered at a stable and on a private jet.
His report identifies "management failings, insufficient oversight and a sense of complacency within the organisation".
In the separate case of Godolphin racehorse trainer Mahmood Al Zarooni, the report concludes that he acted alone when doping racehorses.
But the report adds of the Al Zarooni scandal: "The mere fact that these circumstances and actions could arise without management intervention gives serious cause for concern."
There is a need for "stronger management, clearer accountability and better internal communication", the report says, noting that some new procedures have already been introduced.
Sheikh Mohammed, the ruler of Dubai who has hundreds of horses in Newmarket for his Godolphin team, is thought to be the biggest racehorse owner in the world.
He also has extensive interests in endurance racing, which sees riders compete over distances of up to 100 miles.
Al Zarooni was banned for eight years in April 2013. Twenty-two horses in his care tested positive for banned anabolic steroids.
In May, more controversy followed when veterinary products not licensed for use in the UK were seized from a Dubai government jet at Stansted Airport in May, and from one of the sheikh's endurance racing trainers in Newmarket.
"Throughout our investigation of the three entirely separate incidents, we have established that no evidence whatsoever exists to suggest that HH Sheikh Mohammed had any knowledge of the purchase, transportation or use of any unregulated medicines," said the Stevens report.
"Equally, neither did he have any knowledge of the illegal activities of Mahmood Al Zarooni."
This statement mirrors the conclusion drawn by the British Horseracing Authority after its own inquiry into the Al Zarooni affair.
Lord Stevens said the sheikh had agreed to create a taskforce of experts to suggest ways of ensuring everyone involved in equestrian sport complies with regulations in the future.
While the seized veterinary products are referred to as being "widely used and considered safe" with equivalent items available in the UK under different brand names, the report makes several recommendations.
Most notably, these include the formation of a new compliance unit with the power to carry out testing on any part of the sheikh's operation if required, and a ban on shipping any veterinary medicines on Royal Dubai Air Wing aircraft.
The sheikh's equine interests include thoroughbreds, Arabian show horses and endurance racing.
He owns thousands of horses with major facilities in the United Arab Emirates, Ireland, France, the United States, Australia, China and Japan.