Philip Fenton: Cheltenham Festival entries tested for doping
Last updated on .From the section Horse Racing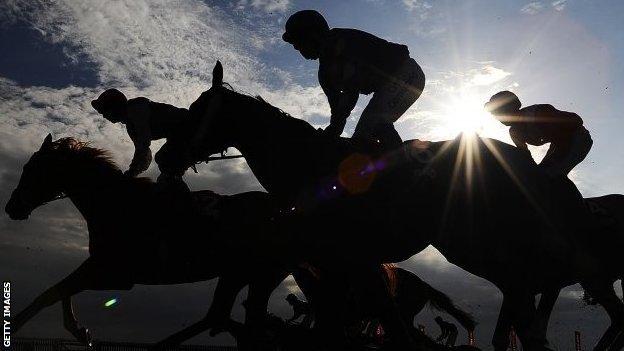 The British Horseracing Authority carried out dope tests at the stables of Irish trainer Philip Fenton on Wednesday ahead of the Cheltenham Festival.
Fenton faces a court hearing in March after being charged with possessing banned substances, including anabolic steroids.
Blood and hair samples were taken from Last Instalment, third favourite for next month's Cheltenham Gold Cup, along with fellow Festival contenders Dunguib and Value At Risk.
Fenton was also interviewed by officials at his County Tipperary yard. It is expected the results of the tests will be known next week after being fast-tracked for analysis in Newmarket.
The Festival starts on Tuesday, 11 March, with the Gold Cup on the final day of the four-day jump racing showpiece.
Fenton's case has twice been adjourned and is next listed for a district court on 20 March, six days after the Gold Cup.
The BHA is putting greater resources into anti-doping measures after completing a review of its control procedures in December.
That followed the handing out of bans to two high-profile trainers for doping offences during 2013 - Mahmood Al-Zarooni was banned for eight years and Gerard Butler for five years.
"The events of 2013 highlighted the need to increase the deterrent against the misuse of drugs and medication, and in particular anabolic steroids," BHA chief executive Paul Bittar said ahead of Wednesday's tests.
"Since then significant steps have been taken towards achieving a set of international minimum standards, with a number of jurisdictions adopting a zero-tolerance policy regarding the use of steroids in racing."
Fenton also had his yard inspected by the Irish Department of Agriculture in January 2012.
Bittar added: "We consider it incumbent upon all involved with British and Irish racing, not just the authorities, to demonstrate their opposition to the misuse of drugs and medication, in particular anabolic steroids, and be open and transparent about all practices."