Godolphin: Three vets quit after being 'asked to resign'
Last updated on .From the section Horse Racing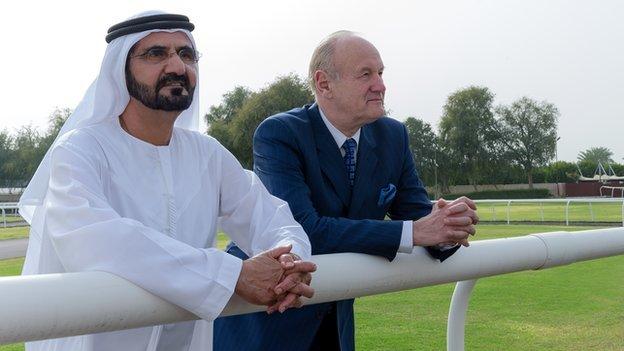 Three veterinary staff quit Sheikh Mohammed's Godolphin racing team after being asked to resign following a doping scandal, the BBC has learned.
Their resignations were accepted on Monday as part of a reshuffle following an internal review of the operation by former police chief Lord Stevens.
It has not been said whether the staff departures were directly linked to the Mahmood Al Zarooni case.
Trainer Al Zarooni was banned for eight years in April 2013.
Al Zarooni acted alone in the procurement and transport of banned anabolic steroids, according to the Stevens review.
The exact roles of the veterinary staff and where they were located has not been revealed.
However, it is known that the organisation was seeking to address "some management problems and personnel failings" identified in the Stevens report.
Sheikh Mohammed, the ruler of Dubai, founded Godolphin in 1992 and the outfit now has hundreds of racehorses around the world, including at two stables in England.
The operation's reputation was damaged last year when the British Horseracing Authority (BHA) suspended Al Zarooni for administering banned anabolic steroids to racehorses at Moulton Paddocks in Newmarket.
After subsequent seizures of unauthorised drugs from a Dubai government jet and at an endurance racing trainer's stables, the sheikh requested ex-Metropolitan Police boss Stevens carry out an internal inquiry of all his equine interests.
The Stevens review, part of which was made public a fortnight ago, highlighted "management failings, insufficient oversight and complacency", although it said the sheikh had no knowledge of the illegal activity.
A wide-ranging statement on Monday about changes to the organisation said three Godolphin veterinary staff had resigned, along with the boss of the Janah transport division, which ships thousands of racehorses annually.
Simon Crisford, Godolphin's main spokesman and racing manager for more than 22 years, resigned from that post and will now be a racing advisor to the sheikh's family and their entourage.
The role of racing manager will no longer exist, with Al Zarooni's replacement - his former assistant Charlie Appleby - and his long-standing fellow Newmarket trainer Saeed bin Suroor being chief spokesmen for their stables.
Godolphin's trainers in the United States, France and Ireland (from where Jim Bolger trained Dawn Approach to win last year's 2,000 Guineas) will report to the sheikh's bloodstock agent John Ferguson, who is also a trainer in his own right.
Sheikh Mohammed also has extensive interests in endurance racing, which sees riders compete over distances of up to 100 miles.
The Quest team, headed by Lord Stevens, is to carry on working with the sheikh - helping to set up an internal compliance unit and external taskforce aimed at ensuring regulations on veterinary medicine are not broken.
In a BBC interview last month, Sheikh Mohammed insisted Al Zarooni, who has said he brought the steroids into the UK in his luggage when returning from Dubai, would never work with his horses again.
The former trainer said he made up five unmarked syringes containing stanozolol and passed them out of his car window at the stables to an unqualified veterinary assistant.
Al Zarooni said he asked his stable staff to include ethylestrenol in paste form in the feed of horses.
While Godolphin look to move on from the doping scandal, the issue of anabolic steroids still casts a shadow over horse racing.
BHA officials visited Irish trainer Philip Fenton on Wednesday to test his three entries for next month's Cheltenham Festival, including Gold Cup third favourite Last Instalment.
Fenton faces allegations that unauthorised animal remedies, including anabolic steroids, were found at his yard during an inspection by staff from the Irish Department of Agriculture in January 2012 and is due to appear in court on 20 March, six days after the Gold Cup.
The pre-Cheltenham testing date is not known, although the results are expected to be available next week.