JT McNamara: Brian Toomey hopes Cheltenham remembers
Last updated on .From the section Horse Racing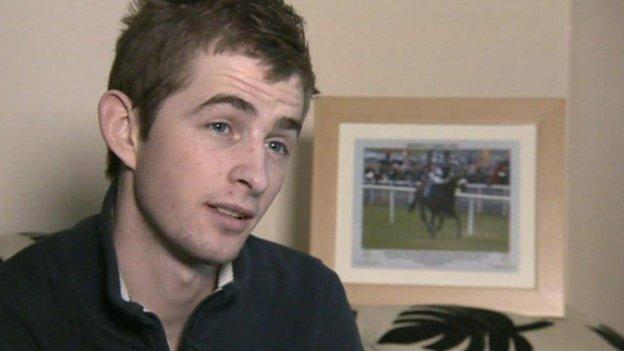 Brian Toomey is unmistakeably a jockey. He could be nothing else.
You see it immediately in his pencil-thin frame when he approaches. It gleams in his eyes when he tells you where he would rather be on a wet afternoon. "There's racing at Carlisle today," he says.
It's there on the living room walls of his cottage in North Yorkshire; horses in picture frames surround you: past runners, past winners. He will passionately recount the tale of each as jump racing's showpiece Cheltenham Festival approaches.
But right now he is a jockey who cannot ride. He is a 24-year-old who is lucky to be alive.
Last July, Toomey was injured in a fall when riding at Perth and spent weeks in a coma. He had surgery which has left him with a metal plate forming part of his skull. Most seriously of all, from his point of view, it has left him in limbo.
He will only be allowed to ride again if he passes a series of strict medical examinations. It is, he knows, highly unlikely. Regaining his licence would be like winning on the longest shot of his career.
''It's what I love doing, it's a fantastic job. I'm sure a lot of jockeys will tell you the same thing," says the Irishman.
"When you love your job it doesn't feel like a job. I've been in England seven years and I've had loads and loads of rides, plenty of falls, broken plenty of bones, but I was just unlucky this time.
"I hope to get back and be even luckier when I get back. It's going to be a bit doubtful, unfortunately. I'm going to try my hardest. Anything I have to do, I'll give it 100% to prove that I'm OK, but there's so much insurance in racing, the doctor who'd pass me would have to be very careful."
He can smile about it now. Toomey praises the work of the Injured Jockeys' Fund, which is helping him with various courses. His sponsor has stuck by him and, thankfully, he can walk, drive a car and fundamentally lead a normal life.
But most of all, Toomey's perspective has changed because of his cousin, John Thomas McNamara.
After a fall at last year's Cheltenham Festival, McNamara is paralysed and in a spinal injuries unit. As a vastly experienced and popular amateur jockey, his fight first to survive and then to recover has affected the racing community throughout Britain and Ireland. But for Toomey there is particular poignancy.
''To be honest, I even thought I was hard done by until I knew exactly what had happened to John Thomas and had been to see him a good few times," he says.
"You wouldn't believe the number of jockeys even in England who've been to see him.
"He said to me: 'Brian, do you mind ringing a few of them up and thanking them?' The support really touched John Thomas, but it really touched me because it shows people care, and God forbid the same thing could happen to them."
Without inhibiting or diluting the atmosphere at this year's Festival, which takes place from Tuesday to Friday, Toomey hopes the anniversary of McNamara's fall, which was on the Thursday, will be marked.
''I've ridden at the Cheltenham Festival four or five times and it's unbelievable to walk out to the paddock and get on a horse," recalls the jockey from Limerick.
"People love Cheltenham, and hopefully at Cheltenham they'll remember John Thomas and there'll be a lot done about it, because that's what he deserves.
"People go there to have a good time, but it would be nice if they stopped for a moment or two and thought about the people like that. Hopefully they will do."
McNamara's injuries are a stark reminder of the risks jump jockeys take every time they ride. The rewards, for the vast majority of riders, remain modest.
The latest research conducted by the Professional Jockeys' Association suggests the average annual earnings for a rider are £37,195.
But once expenses are taken into account, notably the cost of travelling the length and breadth of Britain in search of rides, that figure drops to an estimated £22,000.
Is it worth that to risk your life, with jockeys estimated to fall an average of once every 16 rides?
Toomey does not have a moment's doubt.
I offer him a hypothetical deal, telling him: "I'm going to give you a chance to ride the third-favourite in the Champion Hurdle at Cheltenham in two years' time, but there's the chance you could do yourself serious injury again if you fell. Would you take that chance?"
The answer is instant.
"100%, I would take that risk," he says. "I would shake your hand now even - I would love to. Even if you said the 10th-favourite I would shake your hand."