Concern over jockey injury misdiagnosis
Last updated on .From the section Horse Racing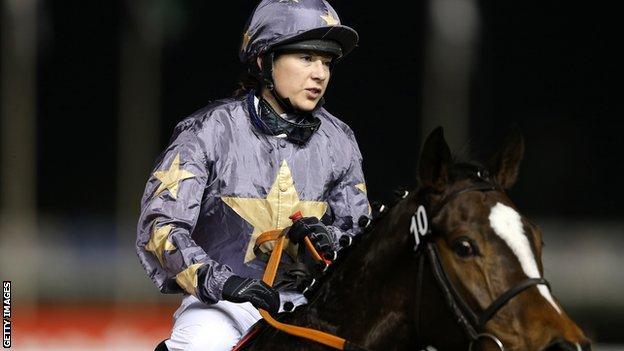 The Professional Jockeys' Association says it is concerned serious injuries to riders are being misdiagnosed.
A PJA medical report shows that one in four spinal fractures since 2009 have been missed when they go to hospital.
PJA chief executive Paul Struthers it could be that hospital staff do not understand the "actual mechanic of the fall and the potential injury".
Racing officials are trialling a system which involves sending a jockey to hospital with video of his or her fall.
"What we are trying to do is get a short video clip on to either the racecourse doctor's or jockey's mobile device," said Struthers in an interview with BBC Radio 5 live.
"In some cases, they could even go with an actual hard-copy DVD.
"There may be times when it doesn't happen just because of the urgency of the situation and how quickly the racecourse needs to evacuate the jockey to hospital.
"At the moment, it is a trial system while we try to thrash out a more formal system."
Hayley Turner, Britain's leading female jockey, fell heavily at Doncaster, last September.
She was initially told she had sustained only soft tissue damage but follow-up scans later in the month revealed damage to her pelvis.
Further assessments showed she had fractured three vertebrae.