Cheltenham: Sire De Grugy completes fairytale for owners
By Frank Keogh
BBC Sport at Cheltenham
Last updated on .From the section Horse Racing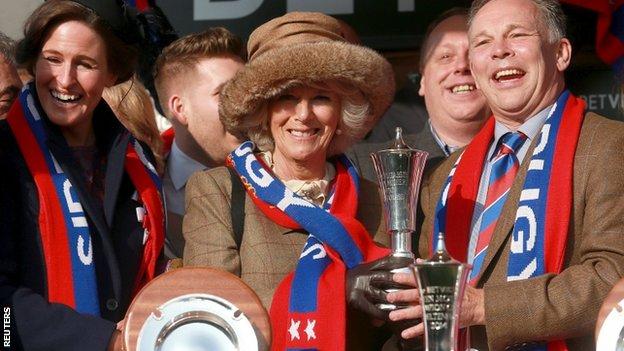 From surprise birthday present to Champion Chase winner, Sire De Grugy provided a feelgood family triumph at the Cheltenham Festival on Ladies' Day.
In an unlikely tale, Runcorn businessman Steve Preston was given £2,000 by his friends and family towards buying a first racehorse as part of a 50th birthday present.
He had always dreamed of owning a horse, and so pooled further funds and asked various trainers if they would buy him one and take a share.
Gary Moore was the only one of the trainers he contacted who was happy with the proposal, and he bought Sire De Grugy in France for 50,000 euros, or about £42,000 in today's money.
Thirteen victories on, culminating in Wednesday's dominant six-length Queen Mother Champion Chase win, the eight-year-old horse has earned more than £500,000 in prize money.
In warm spring sunshine, Preston and his jubilant 18-strong party - not your typical wealthy owners - turned the Cheltenham winners' enclosure into a sea of red and blue, the colours of his beloved Crystal Palace.
But this felt more like a family celebration.
Jockeys emerged from the weighing room in a rare show of applause to salute popular winning rider Jamie Moore, who helps his father Gary train the horse in West Sussex.
"I cannot believe it - it is fantastic," said Preston. "Wife, family and all my friends are just made up and we couldn't be more happy. It is just unbelievable. We have won the Queen Mother now.
"Good for Gary that he had the courage to take on what I proposed. It is a success story, but it is unbelievable so it is fantastic.
"It's not a cheap thing to do and we went into it with our eyes open. We know that 90% of people who own two horses or less rarely see a winner.
"We've seen that horse win 13 times now and every single time we've been there. We saw him on New Year's Day at Fakenham in 2011 win the 12.10 race. It's now a dream come true."
Preston's hairdresser son Sean said they had initially hoped "just to get a few good days out" from the purchase.
"It was just the fact that we would all be able to go together to horse racing. We thought it would be an achievement to get a win, but never at this level," said Sean.
"I think people relate to the story because they think it could be them one day. He's almost a racehorse for horse racing fans."
The Prestons have produced plenty of Sire De Grugy merchandise, and Steve cheekily placed a scarf around the neck of the Duchess of Cornwall after the prizes were presented.
"She said that she was very impressed with our scarves, very jealous that we had only one horse and he was so great," he said.
"She said more about the scarves, and I said 'Would you like one?' so I gave her a scarf and said 'please give it to your grandson'."
Sire De Grugy has profited in the absence of last year's runaway 19-length winner Sprinter Sacre.
Jump racing's top-rated steeplechaser is out for the rest of the season after a heart scare, and this victory was Sire De Grugy's third Grade One win of the season.
But Moore was keen to pinpoint his own horse's talents rather than dwell on a missing rival.
"It annoys me that people don't give him [Sire De Grugy] the credit he deserves," said Moore.
"It was all about Sprinter Sacre and someone wrote the other day that this race should be done under the Trade Descriptions Act because the Queen Mother Chase isn't right.
"He can't do any more. He has gone out there today and done it."
Jump racing comes with risks, and Wednesday saw the second and third equine fatalities of the meeting when hurdler Akdam was put down after a fall and Champion Bumper runner Stack The Deck fractured a knee when running on the flat.
It will have been a sad night for those most closely connected with the animals, and earlier Sire De Grugy's jockey Jamie Moore acknowledged his own bond with his stable star.
"I love this horse - apart from my family, he is next best. He has been an absolute star to me," he said.
"All the boys (fellow jockeys) have come out of the weighing room and it is just great to have a really nice horse."
The Moores are a racing clan. Gary trains, his sons Jamie, Ryan and Joshua, and daughter Hayley, all ride.
Jamie, 29, who is known by his colleagues as "Geezer", is the smiler to his elder brother Ryan's straight man, but even the usually deadpan elder sibling looked chuffed at the triumph.
"It was a beautiful ride, I couldn't have done any better," said Ryan, a three-time champion flat jockey not known for courting the media.
Their father Gary must have been one of the proudest men in Cheltenham. And he can feel proud of a job well done.
After all, he's trained a Champion Chase winner in Sire De Grugy and sired another one in his son Jamie.
Suits you, sire.