Cheltenham: Tap Night is big hope for trainer Lucinda Russell

By Tom English
BBC Scotland
Last updated on .From the section Horse Racing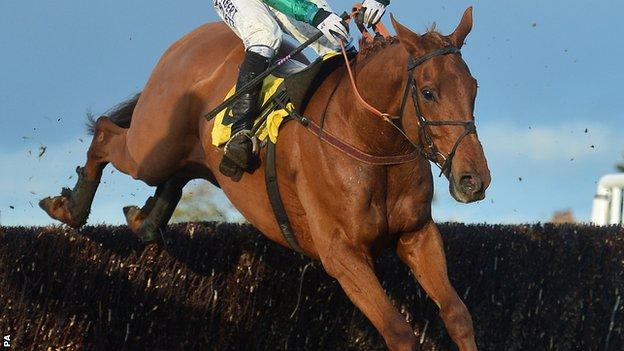 Not for the first time, Ruby Walsh's words were as well-judged as his deeds.
His take on the real tragedies that occasionally befall National Hunt racing were as measured as any of his sensational displays of horsemanship at the Cheltenham Festival and beyond.
When Our Conor crashed and was subsequently put down after Tuesday's Champion Hurdle, the Irishman attempted to put things into perspective.
"Horses are horses," he said. "You can replace a horse. It's sad, but horses are animals outside your back door. Humans are humans. They're inside your back door."
There were those who thought Walsh was being callous. He was accused of treating equine fatalities too lightly.
It was a nonsense accusation levelled against a man who's been steeped in the racing world since he was in nappies. He's not a day-tripper like some who recoil in horror at the sad demise of a racehorse.
He doesn't need to be told about such sadness. He knows all about it. He knows more about it than any of us will ever know.
On Wednesday, he felt he had to clarify what he'd said. "We look after horses like they're pets," he explained.
"There's a huge difference between your pet and your family. That's the point I was making."
And it was a good point made by a jockey who knows the difference between despair over the death of a horse and the tragedy of the maiming or the death of a colleague in the weighing room.
A year ago to the day, Walsh's countryman and friend, John Thomas McNamara, almost lost his life at the Festival after suffering an horrendous fall on Galaxy Rock in the Fulke Walwyn Kim Muir Challenge Cup.
JT McNamara is alive and is an indomitable spirit, but the horrible reality is the Limerickman is paralysed from the neck down.
On Wednesday, another of Walsh's weighing-room brothers, Jason Maguire, was brought out of an induced coma at a hospital in Coventry. He took a fall and a kick from a horse at Stratford on Monday and suffered a fractured sternum and bleeding on his liver.
This is the real world of National Hunt racing. This is where Ruby Walsh resides from one end of the year to the other; he knows the real meaning of sadness in this game.
Lucinda Russell knows it, too. Russell's big hope for the festival runs in the Byrne Group Plate at 16:00 GMT on Thursday.
Owned by JP McManus and trained by Russell and her partner, Peter Scudamore, at their Arlary House yard in Milnathort, Tap Night is well respected and is among the fancied ones to win.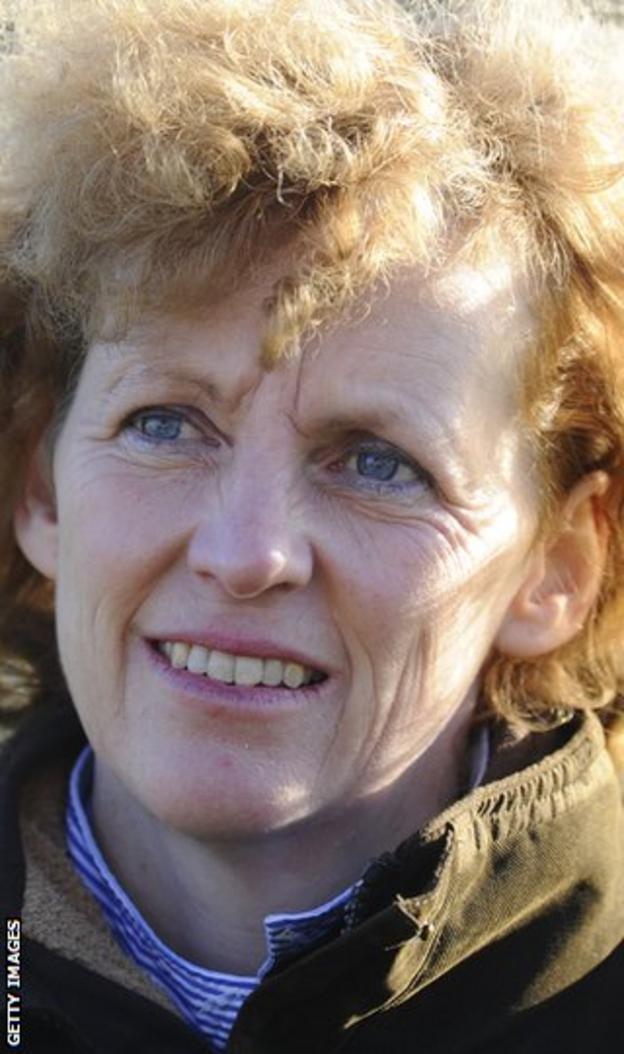 There is a sub-plot in that Tony McCoy has ridden this horse in six of its last eight races, but the great man has opted instead for Colour Squadron, another of McManus' vast fleet at this festival.
McCoy has made big errors of judgement in the past in giving up a ride on an eventual winner and Barry Geraghty will be hoping this is another case in point. Russell may not have the champion jockey on board, but Geraghty is a wondrous replacement.
At the festival two years ago, Russell had her only winner: Brindisi Breeze won the Albert Bartlett Novices' Hurdle, beating the Irish hot-pot Boston Bob in the process.
The Albert Bartlett is effectively a three-mile sprint and it came down to Brindisi, and Campbell Gillies, and Bob, and Ruby Walsh.
The days when the Scots beat the Irish at Cheltenham come along once in a blue moon, but this was such a day.
Brindisi was six-years old and had many good days ahead of him. Campbell Gillies was 21 and only in his infancy as a race-rider. It was mid-March 2012. By the end of June both horse and jockey were dead.
This brings us back to Walsh's point. What is tragedy?
Brindisi Breeze jumping out of his summer paddock and getting killed by a passing lorry was ghastly. The sight of the horse lying lifeless on the road was, according to Russell, the worst thing she'd had ever seen in racing to that point. She was distraught.
Everybody in the yard was, Gillies most of all. His fantastic bond with Brindisi was forged up that hill at Cheltenham and now his pal was gone.
The grief of losing a horse was as nothing compared to losing young Campbell, though. He died not on a race track, but on holiday after an accident in a swimming pool.
At last year's festival, he was remembered in the weighing-room by his colleagues. Some of them, in their post-race interviews, name-checked Gillies. Ruby Walsh was among them.
So when Tap Night lines up at the start for the Byrne Group Plate, a 24-runner handicap chase, the hope is that Russell and Scudamore get to experience the joy of victory, just as they did two years ago.
But above all, the over-riding hope is that everybody comes back safely. Horse and rider. But particularly rider.
In drawing the distinction, Walsh spoke from the heart. And from bitter experience of the terrible beauty that is National Hunt racing.