Cheltenham 2014: Who will have their name in lights next year?

By Cornelius Lysaght
BBC horse racing correspondent
Last updated on .From the section Horse Racing56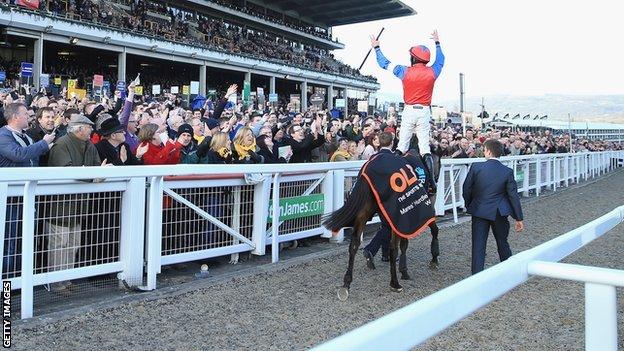 The countdown to next year's Cheltenham Festival is already underway. And I will save you the bother of checking. It all starts again on Tuesday, 10 March 2015.
Here are a few winners and losers from this year's four days, who might well find their names up in lights in twelve months' time.
Quevega to chase 'magnificent 7': Why not?
The tingling sensation of history as Quevega overcame Glen's Melody, thereby surpassing the legendary Golden Miller as the most prolific Festival winner of all time, was palpable.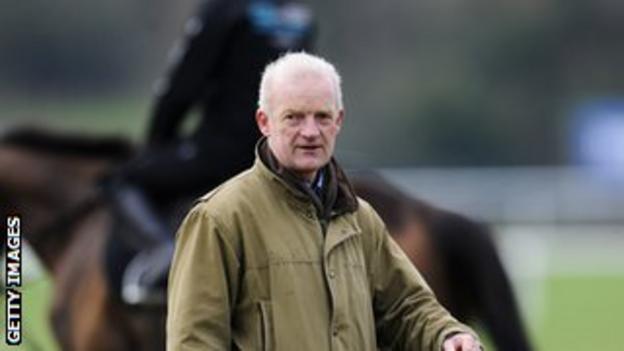 It represented a brilliant effort by the 10-year-old mare to win at jump racing's greatest event no less than six times, but also a simply extraordinary achievement by trainer Willie Mullins and his team to get her there.
But Mullins, as he puts it, "minds" Quevega, aiming at just two prizes per season, the OLBG Hurdle at Cheltenham and then the World Series Hurdle at Punchestown in April, the race expected to be her next port of call.
As a result, even though she will be reaching the veteran stage next year, she is relatively lightly-raced, and there is no reason to think that, all being well, she will not be back for another go.
Better luck next year: The New One
The word "gutted" does not come close to describing the look on the faces of the team around The New One after his luckless third behind Jezki and My Tent Or Yours in the Champion Hurdle.
The manner in which the horse, trained by Nigel Twiston-Davies, and ridden by the trainer's son Sam, powered back after being severely impeded receives 10 out of 10, but it was not good enough.
Five lengths (plus momentum) would be a very fair assessment of the quantity of ground The New One lost, and after the Herculean efforts of horse and rider to rally, they went down by whisker over two-and-half lengths. It is crude, but we can all do the maths.
There is no doubting how good this horse is, and it is no surprise to see him already favourite to turn the tables next time around.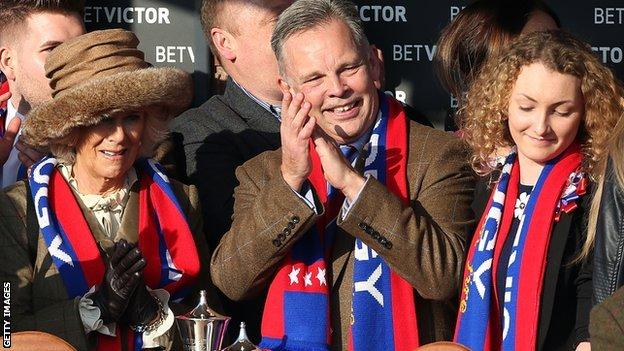 Sire De Grugy: The people's horse
The new Queen Mother Champion Chaser Sire De Grugy is, of course, owned by Steve Preston and his family and friends, while Gary Moore and his family provide the training and riding know-how.
However, so many others now feel part of the story.
If you missed it, put simply, Sire De Grugy, was a 50th birthday gift-horse for Preston, a businessman, based at Runcorn, Cheshire, and, in the absence of former champion Sprinter Sacre, they have taken this jumps' season by a joyous storm.
It has all been an image triumph for the sport, generated, I might say, entirely by the horse and the likeable bunch around him (let us hope the 'professionals' do not try to barge in), proving you do not necessarily have to be big to land top racing pots.
Meanwhile, bedecked in scarves to match the jockey's red, white and blue silks (you might have seen the Duchess of Cornwall received one after presenting the trophy), the fan club is growing fast.
And they could have a lot more to shout about because Sprinter Sacre is not guaranteed to return, and though SDG might not be 100% suited by undulating, left-handed tracks like Cheltenham, he is sufficiently superior to the rest for it not to matter.
2015: Hoping for a less painful time
Four horses lost their lives at the 2014 Festival, but racecourse officials will be heartened to hear that the RSPCA has given them a clean bill of health on safety procedures.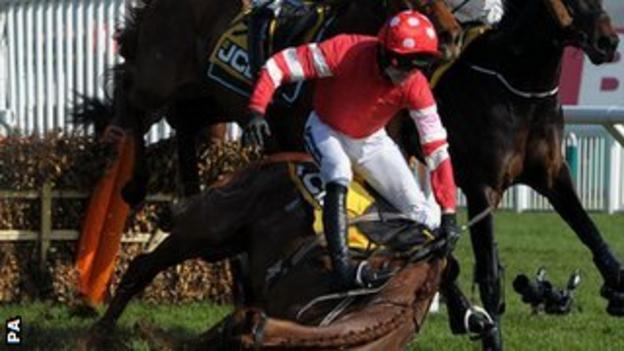 Meanwhile, the list of jockeys suffering serious injury was longer than usual, and included big names Bryan Cooper, Ruby Walsh and Daryl Jacob, all of whom are looking at lengthy spells out of action.
The swift response from medical staff is to be applauded.
Medics have acted quickly to any sign of danger, particularly in the case of Jacob, whose mount crashed through a rail, hurling his rider onto concrete, at an awkward-to-reach part of the enclosures.
Vautour: Different level
After the apparently dazzling success of Faugheen to retain his unbeaten record in the Novices Hurdle, his trainer Willie Mullins was asked to compare the horse with the stable's impressive Vautour, winner of the Supreme Novices Hurdle.
"Vautour is different level," said Mullins unequivocally.
The French-sourced 5-year-old shrugged off good quality opponents in the style of a horse that should easily keep up the Supreme's reputation for supplying the most top-notch of top-notch performers.
That performance makes Vautour look like a very significant prospect for the future.
Three 2014 wins for Jonjo O'Neill: Expect more
With the two most recent champion trainers, Nicky Henderson and Paul Nicholls, both generally out of luck this year, it was left for the stables of Jonjo O'Neill and David Pipe to shine brightest for Britain.
With his father Martin being champion fifteen times, Pipe's dreams in that direction are inevitable, but the ambitions of O'Neill are perhaps sometimes under-stated.
However, the 1979-80 champion jump jockey would surely relish the chance to become only the third since the Second World War to also land a leading trainer's title (after Fred Rimell and Fred Winter) from his base at Jackdaw's Castle, in the Cotswolds, owned by JP McManus.
The stable even has a team, including ex-Cheltenham racecourse MD Edward Gillespie, to promote the operation to new owners with a view to upping its big race potential even further.
All things considered then, how appropriate it was that the horse that spearheaded O'Neill's Festival treble by winning the Ladbrokes World Hurdle is named More Of That.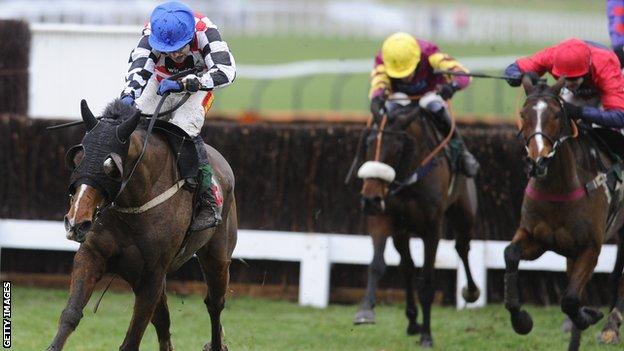 The Giant Bolster: Fourth time lucky?
A series of Gold Cup near-misses is making The Giant Bolster a modern-day legend of the Cheltenham Festival.
Returning to the fixture for a highly-creditable fifth year on the trot, the nine-year-old - a testament to the skills of his trainer, ex-jockey David Bridgwater, and ridden by Tom Scudamore - was this time a fast-finishing third behind Lord Windermere.
Previously, he finished fourth behind Bobs Worth in 2013, and was runner-up when Synchronised took top honours (2012); before that, the horse had unseated his rider in an RSA Chase and run down the field over hurdles.
There is no doubting that the prospects of The Giant Bolster, named after a legendary ogre who once caused havoc on the North Cornish coast, grow considerably a: on Cheltenham racecourse and b: in March.
Unsurprisingly the plan is to return next year, hoping for the first prize, and the bookmaker offering 33-1 at this stage could be taking a big risk. (Incidentally, Lord Windermere is fourth favourite for a repeat, behind Bobs Worth, and the absent-through-injury pair, Sir Des Champs and Cue Card.)
The Giant Bolster's rider, Tom Scudamore, son of champion Peter, ended the Festival as top British jockey with three wins. At the age of 31, he is verging on being a senior member of the weighing room, but is riding at the height of his powers.
Deservedly, 100 winners in a season, for what would be the first time, looks just around the corner.