Grand National: Mike Tindall seeks Aintree win with Monbeg Dude
Last updated on .From the section Horse Racing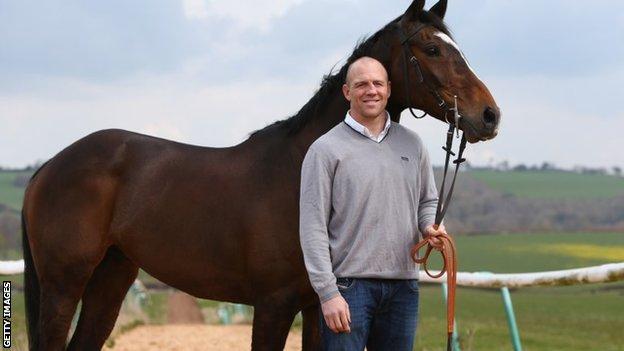 Every runner in the Grand National has a tale behind it - and this year one story stands out.
Monbeg Dude is the horse bought in a boozy haze by a trio of international rugby players and whose jumping has been improved with help from the Queen's grand-daughter Zara Tindall.
The nine-year-old horse will be ridden by one National winner and trained by the grandson of another.
Here, we go behind the scenes with 'The Dude' in the build-up to the famous Aintree steeplechase over 30 fences and nearly four and a half miles on Saturday, 5 April.
AN UNUSUAL CONVERSION
It has been a long way from Tipperary and the horse's winning point-to-point debut at Nenagh Racecourse in January 2010.
Rugby union players Mike Tindall, James Simpson-Daniel and Nicky Robinson, together with trainer Michael Scudamore, bought the horse for £12,000 at Cheltenham bloodstock sales the following month after a sociable meal.
"My story is probably partly exaggerated because I had also partaken in the boozy dinner," recalled Simpson-Daniel, the Gloucester winger who has been capped 10 times for England.
"We'd been invited along to join Mike and some of the other owners on the table.
"Tinds is renowned for wanting auction prices to go up as far as bidding is concerned at rugby dinners.
"It came to the end of the night. I think he was the last one out, Tinds put his hand up - I think he was bidding against himself - right hand, left hand. It was sold to Mike on the rugby table with his back to the horse.
"I was at the table and I said I'd take a leg. We rang Nicky Robinson who was having a family evening, and didn't have a clue what he was doing, but said he would take a share, saying can we go and run in Dubai or the Melbourne Cup."
Welsh international Robinson, formerly with Gloucester but now at Bristol, was unaware the horse was bred for jump racing, and Tindall admitted it was a surprise purchase.
"James, me and Zara were at the sale with 'Scu' and he was an impulse buy - all the other horses that night made £20,000-plus so I thought I would be out-bid," said former England captain Tindall.
"But the bidding suddenly stopped with him. Zara wasn't happy when I got landed with him! I went to look at him in the stable and he looked tiny. We then had to find a way of transporting him so Scu had to drive home and come back with the box."
WHAT HAPPENED NEXT?
The trainer's brother, jockey Tom, had a hunch the relatively cheap buy could be out of the ordinary.
And the horse justified his faith when winning the Welsh National at Chepstow under jockey Paul Carberry in January 2013.
"It all really started when Tom rode him at Newbury and said he could be a National horse, although he couldn't say whether it was a Welsh or Aintree National," said Michael.
"He was proved right about the Welsh bit and it would be great to get the other bit now."
WHO'S INVOLVED
Monbeg Dude: Bred in Ireland, the son of American stallion Witness Box and Irish mare Ten Dollar Bill. Was named before his sale. Boasts his own Twitter handle @MonbegDude with more than 250 followers.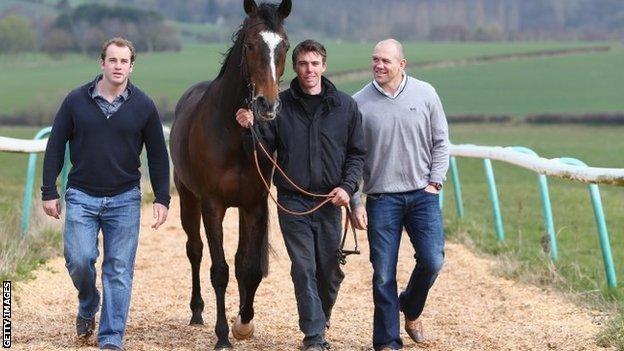 Owners: Oydunow Syndicate - consisting of trainer Michael Scudamore plus the three rugby players:
Mike Tindall, 35 - Grew up in Wakefield, had trials for English schoolboy athletics team as a high jumper. Turned down chance to read psychology at Durham University to play rugby for Bath. Won 2003 World Cup with England. Former captain, 75 caps, currently centre for Gloucester.
James Simpson-Daniel, 31 - Attended Sedbergh School in Cumbria that produced fellow England players Will Carling and Will Greenwood. Nicknamed 'Sinbad' after Brookside TV character, has spent club career mainly as winger for Gloucester.
Nicky Robinson, 32 - Fly-half, born in Cardiff. Has played 13 times for Wales. Now with Bristol following spells at Cardiff, Gloucester and London Wasps. Married to Lynsey, the daughter of Liverpool football legend Kenny Dalglish.
Trainer: Michael Scudamore, 30, trains just 15 horses with only two staff to help him and his girlfriend at his stables near Ross-on-Wye in Herefordshire. He is the son of eight-time champion jump jockey Peter, and grandson of Michael senior, who rode Oxo to victory in the 1959 Grand National.
Jockey: There have been 10 of them altogether, including Michael's brother Tom, but Irish rider Paul Carberry, 40, has the nod for Aintree. Carberry is a character, famed for his patient riding style, who swung from the Aintree rafters in the old winner's enclosure when winning the race 15 years ago on Bobbyjo, trained by his father Tommy. Theirs is a family where breeding counts - Tommy also rode a National winner, L'Escargot, in 1975.
WHERE DOES ZARA COME IN?
Tindall's interest in horse racing has blossomed via his wife Zara, the Queen's grand-daughter, who is a leading equestrian rider.
She has helped Monbeg Dude improve his slightly erratic jumping, supervising weekly schooling sessions with leading Welsh point-to-point jockey Tom David.
"After the Welsh National, Zara said he was not quite respecting his fences and was lazy with his jumping," said Tindall.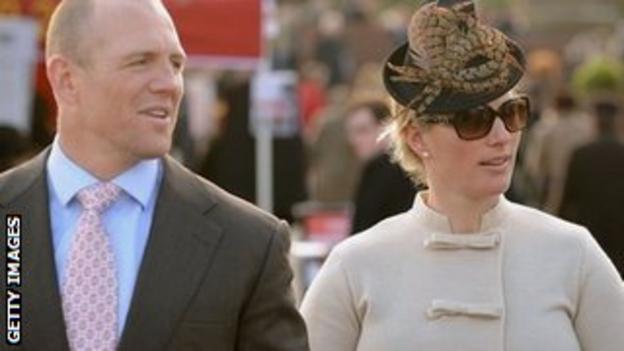 "So she started doing some pole work with him and getting him sharp on his feet. The progression is there to see, now he bounces over his fences. He travels a lot better now and is conserving his energy and speed.
"He goes to Gatcombe most Mondays to do it, in the outdoor arena. He was there a few days ago and will go on Monday ahead of Aintree."
Tindall intends to attend Aintree for the first time, with his wife, although three-month-old daughter Mia - who is 16th in line to the throne - will be looked after at home.
"I've never been to the Grand National before and it's just something having a runner," he said.
"It's going to be tight because I'll be training early on Saturday but I'll get up there and watch the race. Unfortunately if we do well I'll have to come straight back down and we'll have to delay the celebrations."
Tindall is due to play for Gloucester at Wasps the day after the Aintree contest.
WHAT ARE MONBEG DUDE'S CHANCES?
Aimed at the Grand National all season, he is around 20-1 fourth favourite with most bookmakers behind market leader Teaforthree (8-1), who finished third last year.
Monbeg Dude beat the current Aintree favourite by half a length when winning the Welsh National on heavy ground at Chepstow.
He has gone on to win a couple of decent races at Cheltenham, although was well beaten on his latest start at Doncaster on 1 March.
"I think this is one of the best Nationals ever and it's a hugely competitive race. But he deserves to take his chance and there are 39 others and 30 fences to get in the way," said trainer Scudamore.
"He goes there with a major chance on form, he stays, I hope his jumping is not a problem and he goes on any ground so he ticks a lot of the boxes."
History shows the the racing-rugby mix can prove a winning combination.
The 1979 victor Rubstic was owned by John Douglas, who played for Scotland in the 1960s, while the 1928 winner Tipperary Tim was bred by Irish international John Ryan.