Grand National 2014: The art of falling off a racehorse

By Tom Fordyce
Chief sports writer
Last updated on .From the section Horse Racing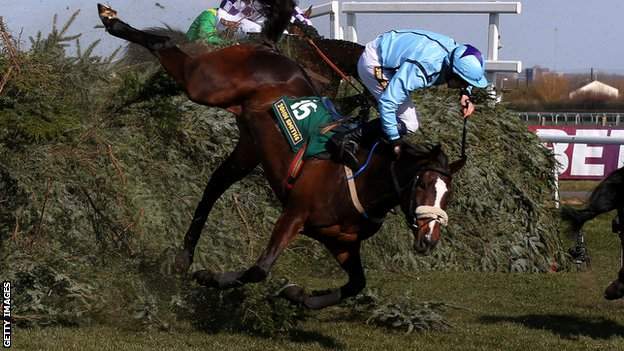 Should you wish to share the thrill of being a Grand National jockey but lack the necessary equine skills, stick your head out of the car window while driving at 30mph.
Now imagine climbing onto the roof and being flung onto the nearest grassy verge, in the thinnest T-shirt you own, while 20 half-tonne lumps come crashing down all around you.
There are many punishing elements in the life of a jump jockey - the relentless hunger, the seven-day working weeks, the job insecurity and the early starts. But just as Norman Stanley Fletcher accepted arrest as an occupational hazard, so jockeys know that one consequence above all others is unavoidable: the fall.
According to the Professional Jockeys' Association, one in 10 National Hunt rides ends with the jockey either tumbling or being unseated. Over the National fences at Aintree, that number has traditionally climbed closer to one in four. There is no safety-net, no airbag, no crash-mat.
In his storied career, Gold Cup-winning jockey Andrew Thornton has broken his collarbone five times, his right tibia, fibula and ankle together, his left arm three times, chipped his elbow, splintered ribs, partially ruptured the cruciate ligaments in his right knee and fractured his left ankle. At various times his limbs have been held together with three metal plates and 31 screws. He is not considered unlucky.
What is it like to smash into the ground at that speed from that height? How does the brain process that dread moment, how does the body soak up that terrible impact, and how does the jockey prepare to do it all again, day after perilous day?
Narrowing the odds: 'Jockeys need to roll'
There is no simple insurance policy you can take out. This is your risk, your body. You find your own way through the mental and physical wreckage.
Some take comfort in deliberate delusion. "I believe that it's never going to happen to me," the untouchable AP McCoy, champion jockey for the past 18 years, told BBC Sport.
"I convince myself that no matter how hard a horse hits me, I'll get up. I've convinced myself that I'm unbreakable. Which, bearing in mind the number of times I've been in the ambulance, is obviously not true."
There are the tactics, the pre-race checks that are the racing equivalent of the airline passenger checking both their carrier's safety record and the location of their nearest emergency exit.
"You look in the paper beforehand and you look how each of the other horses in the race is ridden," says Thornton.
"You don't want to be following something that has an 'F' (fell) or 'U' (unseated) next to it. If you want to sit handy just behind the leaders, you will track something that will track the leader. If he's a good jumper, you're behind him. If he isn't, you might position yourself three off the rails rather than on them, so that if he comes down you're not landing on the back of him."
Then there are the hours of preparation, the schooling that takes place at an age when you can only dream of Aintree's famous acres.
"When people fall, they instinctively want to put their hands out to break their fall," says Richard Perham, the senior jockey coach at the British Racing School (BRS) in Newmarket after a 16-year career in the saddle. "That is the last thing a jockey wants to do, because it means broken fingers, hands, arms and collarbones.
"Imagine running down a hill with your arms tied behind your back and someone kicking your legs away. Unless you want to fall flat on your face, you would need to tuck your head into your chest and almost do a somersault so you land on the back of your shoulder. This curvature of your spine means you will roll. And jockeys need to roll."
New recruits at the BRS begin with a forward roll on a gym mat. Then they tumble over a swiss ball, first from a kneeling position, then a slow walk, and then a step six inches off the ground. If the technique is mastered, the step is doubled in height and the walking becomes a jog, then a run.
Right-handers tend to duck their right shoulders. Left-handers instinctively go left shoulder first. When they are comfortable over the ball, they saddle up on the Equichute - a horse-shaped simulator that can buck like the best rodeo bronco.
That's the theory part of the driving test. The practical leaves no room for bluffers, no hiding place for nerves.
The moment: 'This is going to hurt… '
Mountain bikers and skiers will recognise the sensation: that mental lurch of shock, panic and powerlessness even as the body is yet to react. The crash is upon you.
"If a horse is coming to the fence and completely misses, you don't get time to do anything about it," says Thornton. "You might fleetingly think, this is going to hurt. That is all that can cross your mind.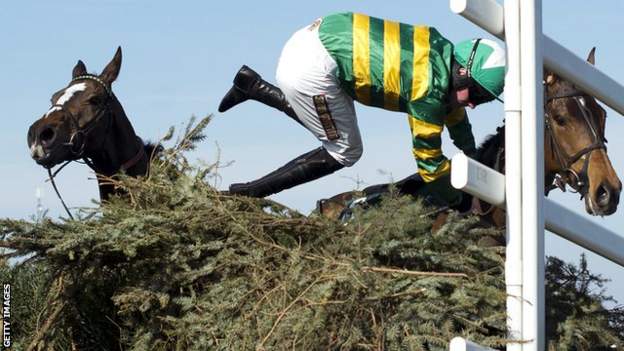 "At other times the mistake will be more gradual, so you'll have fractionally more time to think. Consciously you're trying to survey the situation around you as you're going down. Dive one way or the other, but get yourself out of the way of other runners.
"When the horse is going down, you're almost waiting for him to hit the deck and then launching yourself out of the irons. The momentum with him falling will automatically throw you, touch wood, because when he hits the floor, your momentum takes you on."
Thornton puts his own ability to fall - he has been riding National Hunt for over 20 years - down to his schoolboy rugby days playing fly-half, when he learned how to drop his shoulder to ride a big tackle from the opposing open-side flanker or centre.
"It's all subconscious. It's almost a trigger system: drop the shoulder, as soon as you touch the ground, automatically knees to chest and then roll.
"You want to get into as small a ball as possible, so that if you do get kicked - which is more likely than not when you're at the front - you get rolled along. If you're on the floor, the horse behind will do their best to jump you. If you're not, you're in trouble."
The impact: 'You're going to break something'
Falling at 30mph, from two metres up, into the hoof-pounded turf. No safety-net, no airbag, no crash-mat.
"The older you get, the more it hurts," admits 41-year-old Thornton. "The bounce goes out of you."
And the emergency landing is the easy bit. The real danger is thundering through the birch behind you, unable to stop, unlikely to swerve.
"If you roll away correctly, you lie with your internal organs facing away from the fence," says Richard Perham. "It seems pretty brutal to have your back facing on-rushing horses, but it's the preferable of two evils.
"The pain of being stood on is far, far worse than hitting the floor," says Thornton. "Think about it: half a tonne, travelling at 30 mph, impacting through a single metal shoe, all that pressure coming through you. You're going to break something."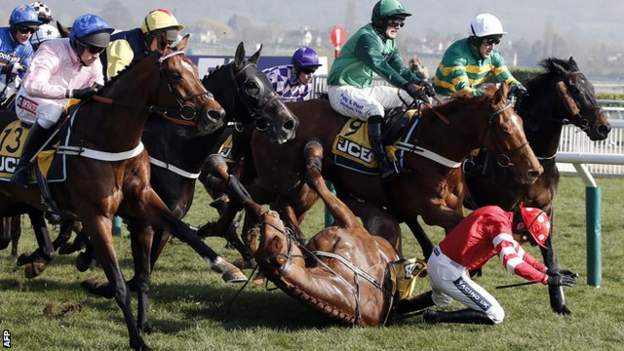 Moto GP riders slide into grassed run-off areas or gravel traps. Skiers wiping out on big corners are gobbled up by netting. For the jockey, buried face-down in the vibrating turf, there is only the interminable hiatus, the sickening mix of powerless and fear, the wait for the inevitable slamming broadside.
"You know that horses have got four feet, and any one of them can catch you," says Thornton with the jockey's brisk logic.
"If you're at the front and you've got 16 horses behind, that's 64 shoes that can hit. If you fall at the front, in the middle, you're very lucky if something doesn't catch you.
"It's why McCoy, when he hits the deck, makes more noise than anyone. 'AAARRGHH!' It's hilarious. When I hit the floor, I'm muttering: 'Please don't kick me, please don't kick me, miss me, miss me.'
"It feels like 10 seconds until you're sure the last horse has gone. It's not, but it feels an age when you're on the floor and rolled into a ball."
The chaotic drumming of hooves fades and then dies away. In the sudden silence, the check-list begins.
"If you can feel your fingers and toes, it's all right," says Thornton. "The rest will mend.
"A dull ache at the top of the thigh - that's a kick. Cuts on your hand - that's good, because they're wrapped around your face, so otherwise it's your face.
"In the first few years you hit the floor and you get up straight away. Now you tend to get up and think: good, that's okay, that bit's okay, that's a bit sore... The bouncing days are over."
The pain: 'I pulled every single muscle, ligament and tendon off the bone'
Now the body begins to catch up. Now the brain begins to soak up sirens from distant nerves and tissue.
"The greatest pain, without any shadow of a doubt, is a dislocation," reveals Thornton.
"A clean break doesn't always hurt that much. When I did my tibia, fibula and ankle at the same time, to be honest with you, it didn't hurt that much. The body has a great mechanism with breaks. It shuts down. And you're in a splint, so it can't move. With a break, you get jovial. 'Ah well, stuff happens.' Then you plan. Three months? Make it two.
"A dislocation you can't stabilise until you have it operated on. I pulled every single muscle, ligament and tendon off the bone. I picked myself up and walked to the ambulance carrying my own shoulder.
"Only when we left the course did I get on the gas and air, and even then the ambulance broke down. I was on the hard shoulder of the M3, on the stretcher, all the lads driving home waving at me. I felt like I was in Carry On Doctor."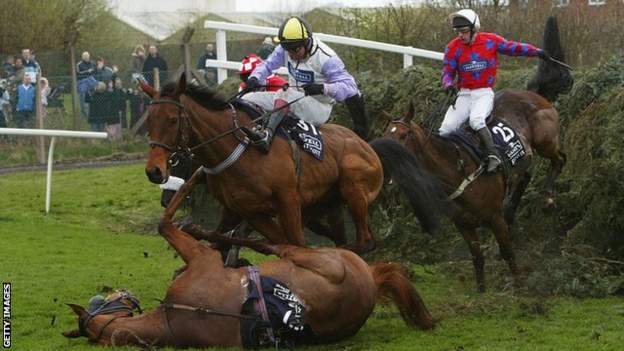 "When you fall, and you know that you've broken something, it's a different kind of pain," says Mick Fitzgerald, who won the National on Rough Quest in 1996 and the Gold Cup on See More Business three years later.
"Straight away your brain is working out, how long will I be off? It's just what happens."
With constant danger comes the acceptance of physical discomfort unimaginable to the punter in the stands.
Thornton once broke his collarbone five times in one season. His solution? Getting his surgeon to saw off a third of the bone and poke the loose end into a hole drilled into the shoulder muscle, so that rather than snapping on impact it would merely bury itself in his flesh. He describes it as the best thing he had ever done.
"I remember the first time I broke my collarbone in my teens," he says. "I stood up and my shoulder just collapsed. I was nearly physically sick.
"You don't know what shock is, you don't know what pain is, you don't know how long you're going to be out for. There's panic. How long will this take? Other people are going to be riding my horses. Oh my god. Do I still have a living?
"But you get used to it. When you're older, it's more: 'Here we go again, three weeks out, I'll put on seven pounds, I'll have to get that weight off… '"
The silent witnesses - 'If he moves his legs or arms, that's great... he's not paralysed'
Even in that weightless moment of cart-wheeling ground and sky, the crunching slam of hard-packed soil into soft tissue, there is an awareness in the jockey's mind of the others caught up in the maelstrom - not just the other jockeys who may be brought down behind them, or trampled up ahead, but the horses themselves.
"Horse and jockey become one animal," National stalwart Sam Waley-Cohen says. "You are its brain, and it is your body."
When that horse does not get up, the jockey feels the loss as intensely as they do a broken limb. So distraught was McCoy after the death of Synchronised at Aintree two years ago that it was months until he was able to talk about it.
"It is one of those terrible things you wish would never happen," he admitted later.
Then there are the wives and girlfriends, the parents and best friends, watching on from the grandstand as the person they love and fear for lies motionless on a stretcher, or waiting impotently at home as a text comes in from a number they do not recognise.
"To me it's about his back, because you have two of everything else," says AP's wife Chanelle.
"If he falls, and he moves his legs or his arms, then that's great - it's not his back, or his neck. He's not paralysed.
"I have seen him leave the house in the morning with a broken ankle, and a broken thumb. He has ridden with a broken collarbone. That would be unknown to most people, yet he's able to manage the pain."
It is the partners who have to deal with the aftermath, with silent men who prefer to hide pain and fear away than admit any weakness, with the private side of someone who in public must by tradition be steadfast in the face of immense danger and illogically sanguine about unavoidable injury.
"It's a very selfish sport, because it's all about you," says Thornton. "I always say that jockeys shouldn't get married until their 30s. When I started, there were 86 professional jockeys. Five were married."
Because falling is inevitable, the cruel art every jockey must master.
A year ago, unheralded Scottish jockey Ryan Mania became a back-page hero when he won the Grand National on 66-1 outsider Auroras Encore. The very next day, in front of three men and a sheep at Hexham, he fell badly and was airlifted from the course with severe neck and back injuries.
Mania and the other 39 jockeys who will jostle for position at the start of Saturday's National must wipe that from their minds. Forget the logic. Forget the precedent and the statistics, and get ready to roll.
Eighteen-time champion jump jockey AP McCoy will be taking your calls on Friday on BBC Radio 5 live between 19:00-20:00 BST. Call 0500 909 963, text 85058 or interact on social media #bbcracing and we will pass your questions on.