Grand National 2014: Protest jockeys charged with rule breach
Last updated on .From the section Horse Racing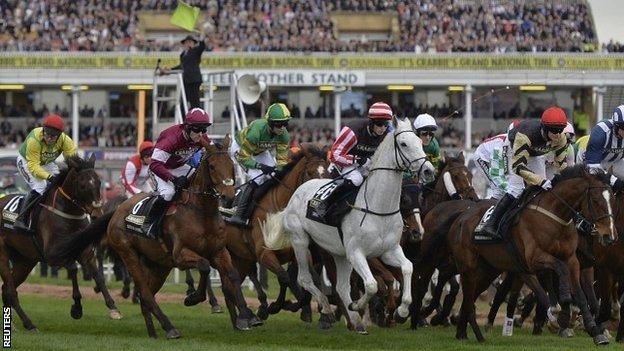 The 39 jockeys who refused to co-operate with a stewards' inquiry after a false start at the 2014 Grand National will not face disciplinary action over the issue.
But the riders have been charged with breaching racing rules by lining up at the beginning of the race before being given permission by the starter.
It was that incident which led to the aborted stewards' inquiry.
A British Horseracing Authority disciplinary panel will sit on 11 June.
An inquiry was sparked by an incident at the start of the National on 5 April.
On the first attempt to get the race under way, assistant starter Simon McNeill was knocked over by one of the runners as it approached the start line. He was not badly hurt.
An initial inquiry took place after the race, with most of the riders who took part in attendance, and 18-time champion jockey AP McCoy acting as their spokesman.
But when the hearing was reconvened following the day's final race, all of the 39 jockeys involved refused to take part.
Jamie Stier, director of raceday operations and regulation for the BHA, said no action would be taken over the refusal to co-operate with the inquiry.
But he added: "Having reviewed all of the available evidence and footage into the incident prior to the start of the Grand National, it is the view of BHA that 39 of the 40 riders in the race attempted to line up or take a position before being instructed to do so.
"If the disciplinary panel finds that this is the case, then this would constitute an offence under the Rules of Racing."
The British and Irish Jockey Association said it was disappointed with the decision to charge the jockeys.