Epsom Derby: Aidan O'Brien says Australia ready for Classic

By Cornelius Lysaght
BBC horse racing correspondent
Last updated on .From the section Horse Racing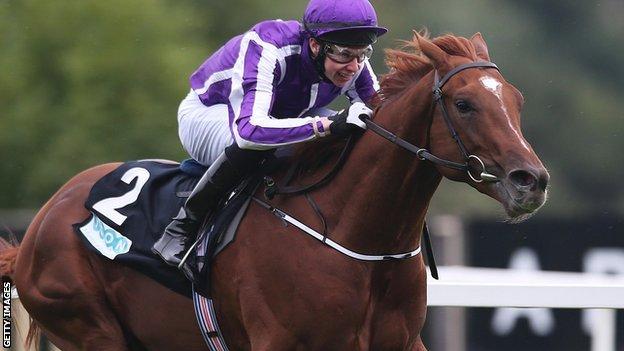 There's a yawning gap between Epsom Derby favourite Australia and the rest - literally.
The colt has gained a sizeable reputation during his short career, winning two out of four races and finishing a close third in a quality staging of the 2,000 Guineas at Newmarket.
And on the gallops at Irish champion trainer Aidan O'Brien's Ballydoyle, Co Tipperary HQ, the horse has apparently put in stunning performances against the clock.
However, O'Brien describes Australia as being in a different class again in a somewhat unexpected way - having a good yawn.
He said: "If he was a human being, you'd have to be watching him all the time because his favourite pastime is yawning. He doesn't worry too much about anything; he has a very relaxed demeanour.
"He'd go into the stalls [during training] and he'd be happy to stay in the stalls all day, and he'd be yawning. It's very unusual."
As preparations gather pace ahead of the challenge on Epsom's famously noisy and colourful Derby day on 7 June, such a laidback attitude is considered a gilt-edged commodity.
Not though on the occasion of his first ever race, at the Curragh last year: when the stalls opened that June afternoon, the already well-touted colt was extremely slow in starting.
And it transpired that his rivals had indeed gained too big a start as he finished runner-up.
But that was then, and this is now, and Australia, the latest in a long line of blue-bloods bred and raced by the Irish-based Coolmore racing empire, is all set to start as one of the strongest favourites ever for British racing's premier Classic.
Success around the famously tricky twists and turns of Epsom would secure both the horse and his trainer rare places in racing history.
Only once before have these big-race spoils been landed by the progeny of a union between a previous Derby hero - in this case, the Coolmore-owned, O'Brien-trained Galileo (2001) - and a winner of Epsom's fillies-only Classic, the Oaks (Australia's mother is Ouija Board, successful in 2004).
And, following on from the victories of Camelot (2012) and Ruler Of The World, 12 months ago, O'Brien, who is also due to saddle highly regarded pair Geoffrey Chaucer and Orchestra, would be the first trainer in the race's 234 years to complete a hat-trick.
With an early spring bout of stable coughing now shaken off, Ireland's champion trainer describes himself as very happy with the build-up to the Derby - "the ultimate test" - in which Australia will be ridden by the trainer's son Joseph.
Certainly, the horse looked a picture of health on the gallops at Ballydoyle during a recent media trip.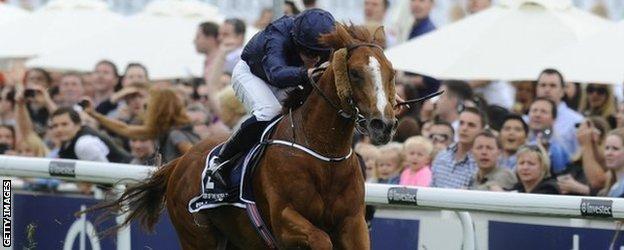 These happen regularly at this time of the year and I put it to O'Brien senior that it wasn't just the timing of our repeat visit that was producing a whiff of deja vu.
Because, in 2012, standing at the almost exact same spot under the sprawling branches of a large tree adjacent to the gallops, he stated that Camelot, then already the 2,000 Guineas winner, was the best they'd had. Now Australia seemed to be getting similar reviews.
Such comments lead sceptics to believe O'Brien shamelessly 'talks up' his charges with their future careers at stud in mind.
So, could I clarify, I asked, what he had just said to a fellow media person about Australia being a "Derby horse like we've never had before"?
With a smile and a "now, this is what gets me into trouble - I shouldn't have said it… and I didn't mean to say it", he proceeded to sound clear enough.
"That's the reality. I don't mean to be blowing him up, but that's the reality at this minute. There's no point beating about the bush - we've never had a horse like this," he said.
Me: "Including Camelot?"
AO'B: "Including everything. Camelot was, I thought, the best we'd had for the Derby, but this horse is another step up. Time will show the Guineas gone by was a lot better Guineas than the Camelot Guineas.
"I'm not trying to blow anything up, but I'm trying to say it as it is.
"And he's been very unusual from early on. One morning, in May-time last year, he did four 11-second furlongs [approximately 200m], one after another, and that made everyone's ears prick very quick.
"I can't remember a two-year-old doing that at that time [of its career]."
When it comes to O'Brien's own achievements, you would not have thought he needs to exaggerate.
Included on his CV are four victories in each of the Epsom Derby and Oaks, a full house of British and Irish Classics, a Prix de l'Arc de Triomphe win in France and eight successes at US racing's Breeders Cup.
In other words, a pleasing majority of the racing world's top prizes.
Yet the 44-year-old, married to Anne-Marie and with three other horse-mad children after Joseph, insists, apparently in all seriousness, that he continues to feel unfulfilled.
"There are so many things we haven't achieved," he said. "I don't think we've achieved much at all really - and that's the truth.
"The lads [Coolmore partners John Magnier, Michael Tabor, Derrick Smith] are breeding so many good horses all the time and there are so many races we haven't won.
"The pedigrees are there and we've a lot to do."