Drugs in racing: BHA plans zero tolerance policy on steroid use
Last updated on .From the section Horse Racing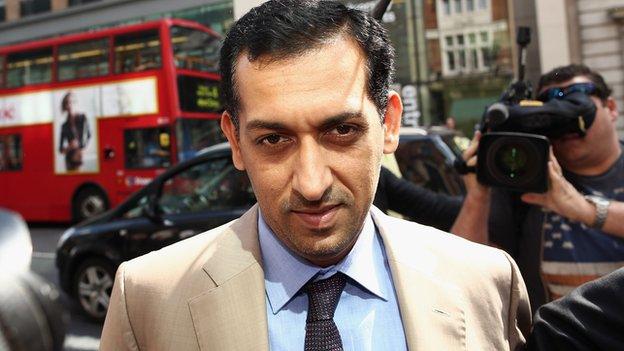 The British Horseracing Authority (BHA) has announced a new zero tolerance approach to the use of steroids in the sport.
Under the new rules, horses cannot be injected with steroids at any time.
Lengthier bans have also been introduced for horses breaking the rules, from six to 14 months.
Paul Bittar, chief executive of the BHA, said the new approach ensured races which take part in Britain are "on a level playing field".
The BHA hopes to implement the new policy by 1 January 2015, pending the implementation of the necessary rule changes.
The new approach follows the conclusion of a project initiated in 2013 to establish how British racing would not only adhere to, but exceed where possible, the new international minimum standards on steroid use, as published by the International Federation of Horseracing Authorities (IFHA) in October 2013.
It also follows two high-profile cases of steroid abuse with trainer Gerard Butler handed a five-year ban from the sport in December 2013 after nine horses in his care tested positive for a banned anabolic steroid.
Meanwhile, Mahmood Al Zarooni, a trainer at the Godolphin stables, was banned for eight years in April 2013 after 11 of the horses under his care were found to have been injected with banned anabolic steroids.
2013 doping scandal timeline

20 February

BHA tests several horses at Gerard Butler yard in Newmarket

9 April

Tests are carried out at the Moulton Paddocks stable where Mahmood Al Zarooni is based

21 April

BHA and Godolphin issue statements saying Al Zarooni admits using banned anabolic steroids on 11 racehorses

25 April

Al Zarooni is banned for eight years

29 April

Butler case comes to light

4 December

Butler is banned from racing for five years after nine horses in his care test positive for a banned anabolic steroid. He admits at a BHA inquiry to seven charges relating to injecting horses

20 December

Butler withdraws appeal against five-year ban from racing
In addition to clamping down on any domestic-based horses, the new policy also covers foreign horses, which must in Britain a a minimum of 14 days in advance of their intended race to facilitate post-arrival sampling and analysis, the results of which will be received prior to the horse running.
"The need for an international position that sets robust minimum standards on use of anabolic steroids in horseracing was one that was pushed by BHA and a number of other key racing jurisdictions last year and resulted in the IFHA adopted position," said Bittar.
"The enhanced, zero tolerance policy announced today, which exceeds the international minimum standard, has the objective of ensuring that British racing remains at the forefront of tackling an issue that ranks amongst the biggest threats faced by any world sport.
"It is also hoped that this will be another step towards global harmonisation across the sport and that the leadership role BHA has adopted on this issue can result in those nations that have not yet adopted the minimum standards following suit."
Bittar also claimed their success during the Godolphin investigation proved their policies were effective.
"You don't go into one if the biggest stables in the world, test 45 horses and get 11 positives if you're regulation isn't working," he told BBC Sport.
"This just provided us with an opportunity to build on regulation and we've absolutely strengthened it. We now have one if the strongest anti-doping policies in place and people should absolutely have confidence on British racing."
Jamie Stier, BHA director of raceday operations and regulation, added: "We have attempted to address every possible angle in the development of this policy but, while the objectives will remain the same, the policy itself will always remain open for review and further enhancements if required.
"The methods and approaches to regulating the use of anabolic steroids are something which racing, and any sport, must always look to be evolving."
The BHA's new approach has also been welcomed by World Horse Welfare, an international horse charity.
Chief executive Roly Owers said: "We hope this more robust policy will encourage other federations to harmonise towards ever higher standards around the globe to help better protect racehorse welfare.
"Allowing horses doped with steroids to return to competition after 14 months does on first appearance appear proportionate, balancing the gravity of the offence with enabling the horse to continue their career, so safeguarding their future.
"This announcement does provide an opportunity to reflect on whether this is a truly 'zero tolerance' policy. The punishment has to fit the crime and we believe there must be severe penalties for keepers or owners in breach of this rule to serve as a robust deterrent."