Belmont Derby: Toast of New York to run on controversial diuretic

By Cornelius Lysaght
BBC horse racing correspondent
Last updated on .From the section Horse Racing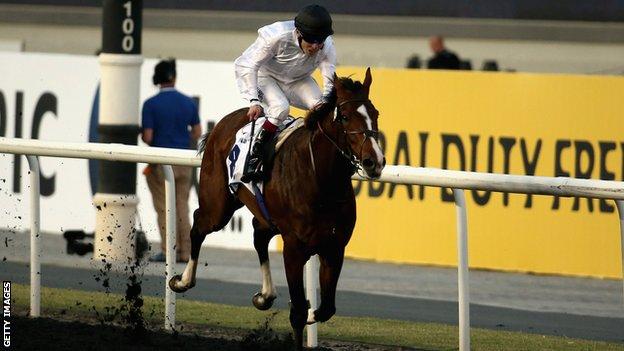 Trainer Jamie Osborne has defended plans to run his star horse Toast Of New York on the diuretic Lasix.
The colt lines up in the $1.25m (£730,000) Belmont Invitational Derby in New York on Saturday.
Lasix, used to reduce the chance of blood vessels bursting, is barred on race-days in Britain, as it is in most of the racing world, although it is allowed "out of competition".
In the US, however, the medication is used regularly on horses in races.
It is just one element of the ongoing debate about whether America should come into line with other jurisdictions over a range of substances, including anabolic steroids.
Osborne, who recorded easily his biggest win as a trainer when Toast Of New York ran away the $2m UAE Derby in Dubai in March, believes it is a "when in Rome" scenario.
The Lambourn-based trainer said: "My job is to try to win this race, and if my opponents are using Lasix, which undoubtedly they will be, then I'm going to do the same thing.
"Will it have any effect? I don't know, but it certainly won't be detrimental and will not do the horse any harm. I don't think I'm doing anything controversial."
The British Horseracing Authority, which recently further tightened its drugs rules, announcing a zero tolerance policy towards anabolic steroids, has indicated it has no concerns so long as the Lasix is out of the horse's system ahead of any future racecourse appearances in Britain.
Toast Of New York's Dubai win catapulted Osborne, 46, back into the big time after a leaner spell during which he says his string was hit hard by the recession and shrunk to its current level of just under 50 strong.
The former leading National Hunt jockey abandoned plans to target his number one horse, bought for a modest (in racing terms) $60,000 and owned by jumps stalwart Michael Buckley, at the Epsom Derby at the 11th hour, believing the race in America to be a more suitable target.
He believes 'Toast' to be "done to perfection" ahead of the mile and a quarter race, only his second on turf as opposed to a synthetic surface.
The three-year-old, whose long-term aim is a return to Dubai for the 2015 World Cup, faces a field that includes the Aidan O'Brien-trained Royal Ascot runner-up Adelaide.
"He did loads of work on grass when our Epsom plan was still on, so the surface isn't an issue," said Osborne, himself an Ascot winner this year when Field Of Dream won the fiercely competitive Royal Hunt Cup.
"He also worked, before Ascot, on the racecourse at Newbury with Field Of Dream, and moved beautifully.
"Funnily enough though, I was marginally disappointed with 'Toast' that day but now you look at it and think he did pretty well trying to concede a stone and a half to a Royal Hunt Cup winner.
"And he worked alone here in Lambourn as well, and I clocked it, and it was pretty spectacular, pretty amazing, and he would not have been able to do that level of work before Dubai."
As a trainer, Osborne has been a colourful and sometimes controversial figure - in 2002, he was fined £4,000 after remarks recorded by a BBC TV documentary were deemed to have brought the integrity of racing into disrepute - but a popular one too.
In a sport where a relatively small number of big names increasingly dominate, the presence at the highest level of a smaller, "underdog" team has been a highlight of the year.
And if Toast Of New York, named after a 1937 Cary Grant movie rather than because of any wildly ambitious foresight, lives up to his name in the Big Apple that feeling will only grow.