The Derby: Classic at Epsom may be moved to Saturday nights
Last updated on .From the section Horse Racing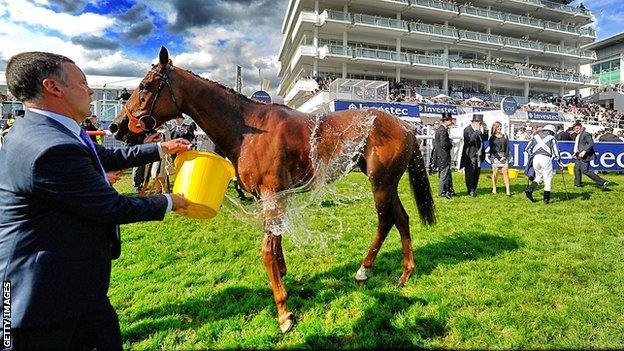 The Derby, the world-renowned Classic first run at Epsom in 1780, could be moved to a Saturday evening slot.
The race has been run on a Saturday afternoon since being switched in 1995 from its traditional Wednesday time.
The move could help reverse declining TV figures seen since the move from the BBC to Channel 4 in 2013, said Epsom managing director Rupert Trevelyan.
But he told the Times that the Queen, a keen racegoer and racehorse owner, would be consulted before any change.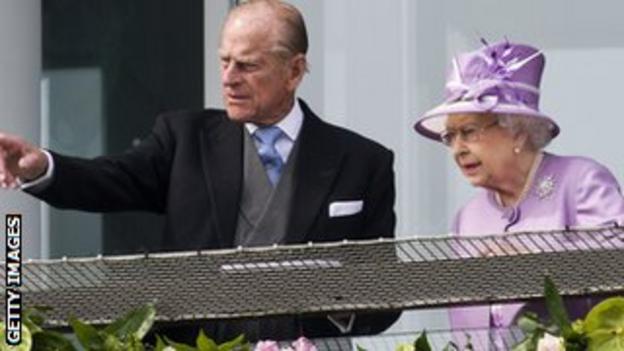 Epsom places great importance on the Derby being attended by the monarch and Trevelyan said: "The presence of the Queen is paramount and she will be consulted before we make any such change."
The peak audience for this year's race, won last month by Australia, was 1.55 million - less than half that achieved the last time the Classic was shown by the BBC.
"We may decide to innovate. I've never ruled anything out and staging the race later in the evening could be considered," said Trevelyan.
"The broadcasters tell us that every hour later could be worth an extra million viewers.
"The race is in good shape but we should never rule out change."
Trevelyan dismissed the idea of moving the race back to a Wednesday, saying: "In the paid stands, we had the biggest crowd ever this year, so that view is misguided."
The Royal Family has a long association with horse racing and Epsom racecourse.
In her Silver Jubilee year of 1977, the Queen's filly Dunfermline won the Oaks under Willie Carson.