Seagull photo finish: Bird caught on camera at Brighton racecourse
Last updated on .From the section Horse Racing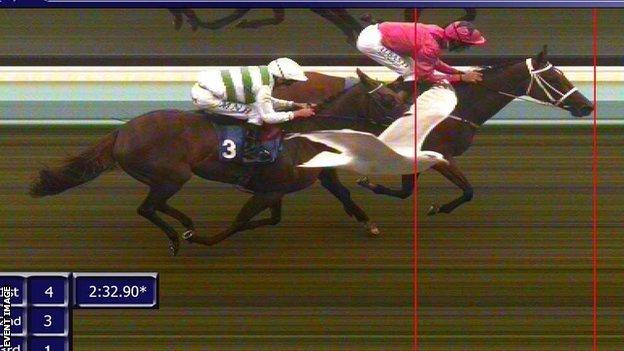 A rare outsider flew home in a photo finish at Brighton races - a seagull, who was caught on camera soaring past the horses.
The bird caused a flap in the 7.10 on Tuesday when 'swooping for the line' at the end of a mile-and-a-half race.
It is thought to be the first bird to feature in the photo-finish print for a horse race.
The contest was won by Jewelled, ridden by Richard Hughes for trainer Ralph Smith, from Luke Morris on Sagesse.
Racecourse spokesman George Hill said: "We are about a mile and a half from the sea, and there are a lot of seagulls around, but this has never happened before as far as we are aware.
"The bird just happened to be in the right place at the right time."
Lee McKenzie, who provided notes on the race for the Racing Post, said: "Some racegoers thought the seagull should have been awarded second place.
"It flew home up the final stretch and clearly beat the next horse by a long beak. Pity it wasn't the next race on the card (7.40), won by Byrd In Hand from Hawk Moth, with another flyer Abigails Angel third."