Horse racing: Hereford closure leading to safety fears
Last updated on .From the section Horse Racing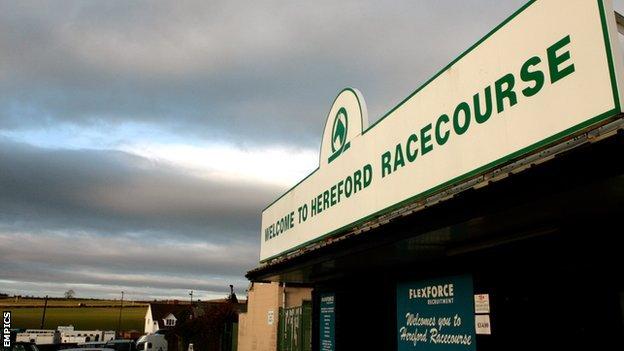 The closure of Hereford racecourse is leading to concerns over the safety of other local tracks, reports BBC Hereford and Worcester.
Several trainers and owners from Herefordshire and Worcestershire are worried repeated use of other venues is leading to dangerous conditions.
Hereford racecourse was shut at the end of 2012 after 241 years of racing.
"We have to be very careful where we run the very best horses because of the ground," said trainer Richard Lee.
The company running the course, Arena Racing Company (ARC), closed it because they said keeping it open was no longer viable.
With owners forced to send their horses elsewhere, the workload on alternative tracks is becoming a concern.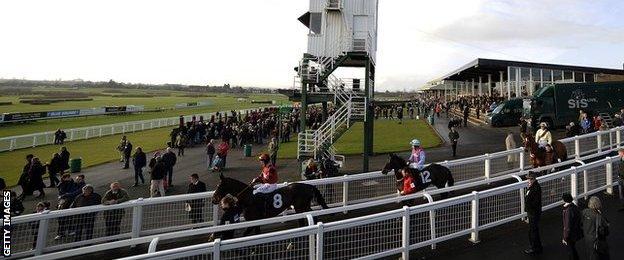 "The less racecourses you've got, the more the ground is going to be used, if not abused, at the others," said two-time Welsh Grand National winning trainer Lee.
"It is something we're very conscious of, it's not so bad when the ground is good but when it gets wet in the winter it gets chewed up and and gets very rough.
"Rough ground when it dries is very, very dangerous.
"Horses are very delicate creatures and if you've got horses running on bad ground that exacerbates the injury problems."
Despite the concerns, Lee said there is not much point in boycotting venues.
"I don't think that gets anybody anywhere. They're running a business like we are, we need to work together because it's a lose-lose situation for everybody at the moment," he said.
Herefordshire Council own the land on which Hereford racecourse is built with ARC the current lease holders.
In a statement ARC, who have explored the possibility of building houses on part of the car park at the course, said negotiations about the future of the course are ongoing with the council.
Herefordshire councillor and trainer Nick Nenaditch told BBC Hereford and Worcester there is a desire to see racing back at the venue.
"Everybody wants racing to return to Hereford and we will do everything that's sensible and proportionate to do that.
"It's not where we intend to build houses."