Paul Bittar: Godolphin scandal was 'racing's biggest challenge'
Last updated on .From the section Horse Racing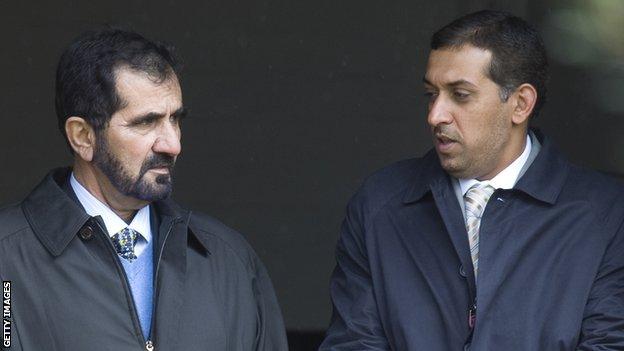 The Godolphin doping scandal presented horse racing's "greatest challenge" of recent years, according to outgoing British Horseracing Authority chief executive Paul Bittar.
Australian Bittar, who joined the BHA in 2011, is to step down next year.
Lucrative commercial deals and changes to the Grand National have been introduced during his tenure.
But Bittar said the Godolphin scandal may bring about "material change" in how racing deals with steroid use.
The Sheikh Mohammed-owned outfit was investigated after horses trained by Mahmood Al Zarooni tested positive for anabolic steroids.
Al Zarooni was banned from racing for eight years, and 11 Godolphin horses trained by him were banned for six months.
Bittar said: "The gravity of the case warranted swift and decisive action.
"The BHA has adopted, and I am sure it will maintain, a key leadership role in raising standards and seeking robust and rigorous international minimum standards."
Bittar was previously chief strategy officer at Racing Victoria, and chief executive of New Zealand Thoroughbred Racing prior to that.
He is still considering his options for his next role, the BHA said.
BHA chairman Steve Harman said: "Paul has been instrumental in building the foundations for racing's future growth, has established stronger regulation and integrity of the sport and improved its overall health."
Bittar added: "I am proud of what BHA has achieved in the past few years and it will be with some sadness that I will leave early next year.
"There are many areas in which we have made significant progress."