Fergal Lynch: Jockey a 'changed man' ahead of return to racing
Last updated on .From the section Horse Racing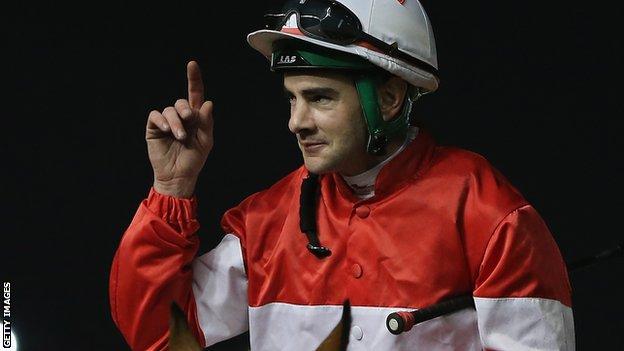 Fergal Lynch is a "changed man" who is "determined to rebuild his reputation" says his solicitor after the jockey was allowed to ride in Britain again.
Northern Irishman Lynch, 36, was banned from the sport after admitting to stopping a horse winning in 2004.
But he is now allowed to ride in Britain under British Horseracing Authority rules as an overseas jockey, initially for a probationary period.
"Fergal is delighted at the BHA's decision," said Harry Stewart-Moore.
Lynch's proposed comeback could happen at Ayr on Monday with the permission for him to ride in Britain subject to an ongoing review.
As part of the agreement, Lynch, who is a native of Derry, must participate in the delivery of the BHA education programmes and education material.
Director of integrity, legal and risk for the BHA Adam Brickell
"It is now 10 years since Fergal Lynch committed those offences and he has paid a price for his mistakes. Lynch has satisfied us during the course of his application that he has successfully reformed his character and that subject to the agreed conditions, he should be allowed the opportunity to race ride in Britain once again."
Lynch stopped Bond City from winning at Ripon in August 2004, supplying inside information about six of his rides and associating with disqualified former racehorse owner Miles Rodgers.
The 36-year-old was cleared of race-fixing charges in 2007, following the collapse of the Old Bailey trial, and started a new career in America. He also raced in Spain, France and Germany.
In July 2009, he was fined £50,000 and agreed not to ride in Britain for at least a year as part of a plea bargain agreement with the BHA.
He attempted to regain his British licence ahead of a proposed return in 2011 - but his application was rejected.
However, he was free to ride in Ireland after he was granted a licence in 2012.
"It has been nearly six years since Fergal has ridden in this jurisdiction," said Stewart-Moore.
"It will be clear that he is a changed man having ridden in Ireland and in other jurisdictions all over the world with a great deal of success.
"More importantly [he has ridden] without incident or any questions being raised regarding his conduct or integrity.
"He is extremely keen to rebuild his reputation in Great Britain by adding to it by working with young jockeys to help ensure that they do not make the same mistakes that he did."