Jamie Spencer: Two-time champion jockey to retire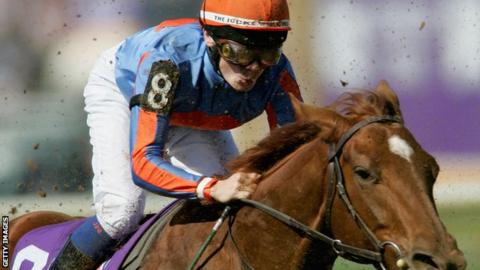 Two-time champion jockey Jamie Spencer has announced he will retire from racing at the end of the season.
The 34-year-old will step down as a retained rider at Qatar Racing Ltd to take up a new position with the stables.
Working closely with Sheikh Farhad Al Thani, Spencer will provide feedback and advice on their horses.
Spencer rose to fame after winning the Irish 1,000 Guineas aboard Taracason in 1998, aged 17.
The Irishman spent the 2004 season as stable jockey for champion trainer Aiden O'Brien.
In 2007, Spencer shared the British crown with Seb Sanders, in a battle which went down to the last day of the season.
Speaking about the move, he said: "This has been a big decision and not one I have taken lightly.
"My priority is my family, and thinking of them and their future has played a key part in my decision.
"I feel I still have a lot to give to racing, and not just as a jockey."