Newcastle Racecourse confident over all-weather future
Last updated on .From the section Horse Racing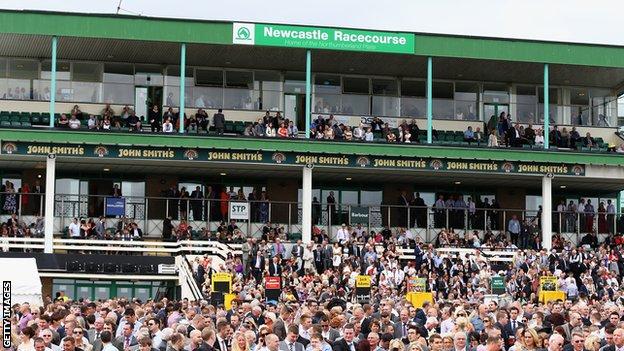 The owners of Newcastle Racecourse believe they will be able to stage all-weather racing in the future despite the British Horseracing Authority blocking the move.
The BHA has refused to grant the rule exemption that would have allowed racing under floodlights there in 2015.
Arena Racing Company said the decision was an "unwelcome delay".
"ARC remains committed and confident it can resolve race programme issues with the BHA," it added.
"ARC will continue to work to ensure Newcastle's all-weather track will host fixtures as part of the 2016 fixture list."
The company outlined £10m plans to change the flat turf circuit to a floodlit all-weather track last year.
It wanted to hold all-weather races at Gosforth Park in 2015.
However, racing rules stipulate that each day's programme of racing must include two races over a distance longer than the proposed all-weather track could accommodate.
That meant Newcastle needed a rule exemption from the BHA - which it was unwilling to grant when its board met on Monday to consider the decision.
BHA chief executive Paul Bittar said: "There is a general consensus amongst stakeholders that there would be benefits to the sport from an all-weather track in the north.
"We weighed up the advantages of introducing a floodlit northern all-weather track at Newcastle in the latter part of 2015 against the negative race planning impact and associated implications for the sport as a whole of granting an exemption to a key rule of racing.
"As a result, the board decided there was insufficient evidence at this time to justify granting an exemption to the rule for the 2015 fixture list."
He added the BHA would continue discussions with ARC.