Treve: Frankie Dettori loses ride on favourite for Arc at Longchamp
Last updated on .From the section Horse Racing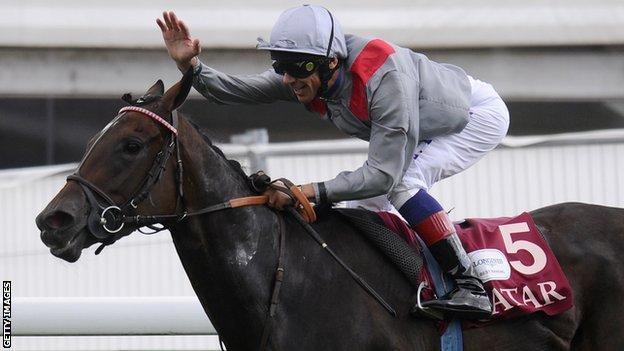 Frankie Dettori has lost the ride on Prix de l'Arc de Triomphe favourite Treve, with the filly's original rider Thierry Jarnet replacing him.
The change has been made at trainer Criquette Head-Maarek's request despite Dettori being owner Sheikh Joaan Al Thani's retained rider.
Jarnet, 47 - who won the 2013 Arc on Treve when Dettori was injured - will ride her in Sunday's Prix Vermeille.
Dettori, 43, was on board for the filly's two defeats this season.
French jockey Jarnet, who had a 100% record from four rides on Treve earlier in her career, will almost certainly partner her again in the Arc on 5 October.
Head-Maarek said: "Frankie is not going to ride her in the Vermeille as I have decided Thierry Jarnet will ride. Normally, that means Thierry will ride in the Arc.
Treve: A tale of two jockeys

For Thierry

Jarnet
Races:

4,

Won

4

For Frankie

Dettori
Races:

3

Won

1, 2nd 1, 3rd 1
"It was my decision, nobody else's. I think it is the best decision for the filly and when I told Frankie he was very good about it and understood my point of view.
"Thierry did very well on the filly last year and there is nothing more to say."
Jarnet partnered the horse to her first three wins, before Sheikh Joaan appointed Dettori as his number one rider for Al Shaqab Racing, and the pair triumphed in last year's Prix Vermeille at Longchamp.
The partnership was set to continue in the Arc before Dettori's late injury, when Jarnet was called in as replacement and won praise for his winning ride.
Treve was unbeaten before coming second at Longchamp and then third at Royal Ascot this season when ridden by three-time champion jockey Dettori.
Al Shaqab Racing spokesman Harry Herbert stressed the rest of Dettori's retainer was unaffected by the Treve decision.
"These are difficult decisions, but Criquette felt that Thierry Jarnet knows the filly so well on a day-to-day basis and, having won an Arc on her, that for these last two key bullets (Vermeille and Arc) to fire in her career every little percentage shot counts and she wants to give the horse every chance," he said.
"It's obviously very disappointing for Frankie, but he's a phenomenal team player. He's been amazing on this.
"This is not in any way more of an issue than the fact the trainer feels strongly that the filly reacts particularly well to Thierry Jarnet."
Dettori in the Arc
Frankie Dettori had ridden in the Prix de l'Arc de Triomphe
25 years running
before missing out last year. He has won the race three times - with Lammtarra (1995), Sakhee (2000) and Marienbard (2001).