Scottish referendum: Scottish racing welcomes 'No' vote

By Cornelius Lysaght
BBC horse racing correspondent
Last updated on .From the section Horse Racing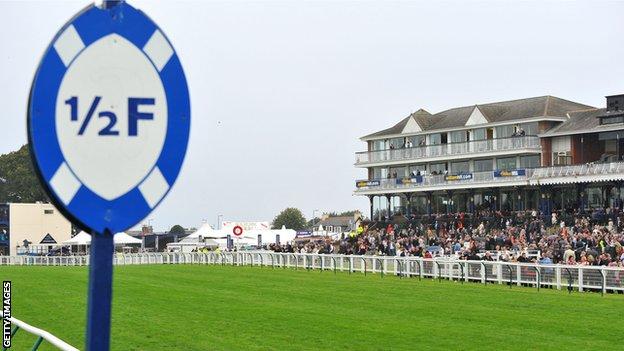 Scottish racing has welcomed the victory for the "No" side in Thursday's independence referendum.
The sport is run from London by the British Horseracing Authority (BHA).
But it potentially faced big changes in the event of a "Yes" vote, with talk of setting up a separate Scottish Authority - though details, notably on funding, were virtually non-existent.
"We can continue to train without a huge cloud of uncertainty in front of us," said trainer Nick Alexander.
Alexander is based near Leslie, in Fife, and is a member of the National Trainers Federation Council.
"There's a sense of relief," he added. "And there's a positive too because our dialogue with the Scottish Parliament in the run-up to the referendum has made them more aware of our existence.
"Hopefully our association in future can be as good as the relationship we see between many English trainers and the Westminster Government."
Despite the credentials of First Minister Alex Salmond, a racing fan and a former a tipster on The Scotsman newspaper, a survey commissioned before Thursday's vote by Scotland's five racetracks - Ayr, Hamilton, Kelso, Mussleburgh and Perth ahead of the vote - concluded there was "a very real and a very high risk that we will be considerably worse off".
Paul Bittar, chief executive of the BHA added: "A No vote is a good thing. In the fabric of British racing, Scottish racing plays a big part, and in some ways punches above its weight.
"With things coming up like Levy [funding from the betting industry] reform, it's good to be united."