Queen's horse Estimate stripped of Ascot Gold Cup second place
Last updated on .From the section Horse Racing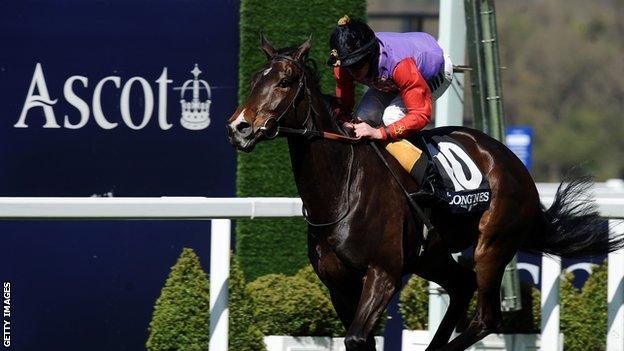 The Queen's horse Estimate has been stripped of second place in this year's Ascot Gold Cup.
The five-year-old was one of eight of horses to return a positive test for morphine in July, which has since been traced to a batch of contaminated feed.
A British Horseracing Authority (BHA) hearing on Thursday accepted trainer Sir Michael Stoute had taken "all reasonable measures" to prevent such an incident from happening.
Consequently, they imposed no fine.
"We totally accept in full the Panel's findings," said John Warren, the Queen's racing advisor.
"We also welcome the BHA's recognition that... the accidental administration of a prohibited substance was in no way the fault of those connected to the horses."
Estimate was runner-up to Leading Light in the Gold Cup, having won the title the previous year.
The £80,625 prize money for finishing runner-up will now be allotted to Missunited, who originally finished third.
Former Liverpool and England footballer Michael Owen's horse Brown Panther has been promoted to third place.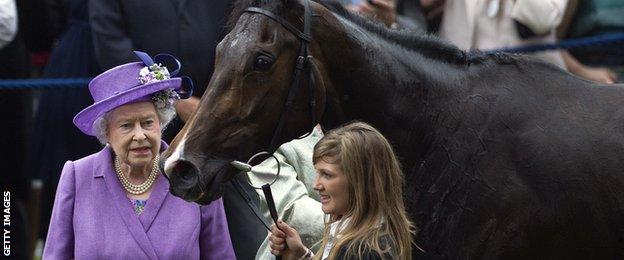 Russian Realm, Royal Alcor, Soul Intent, Jolly Red Jeanz, Strath Burn and Ocean Legend have all been disqualified retrospectively from races, too.
Chepstow winner Charlie Wells and trainer Eve Johnson-Houghton will have their case heard on 16 October.
Estimate, who won the Doncaster Cup earlier this month, is set to be retired from racing for a breeding career.
The filly's final race will be either the Prix du Cadran at Longchamp on 5 October or Ascot's Long Distance Cup 13 days later, after it was decided not to enter her in the Melbourne Cup on 4 November.