Treve out of retirement to chase third Prix de l'Arc de Triomphe win
Last updated on .From the section Horse Racing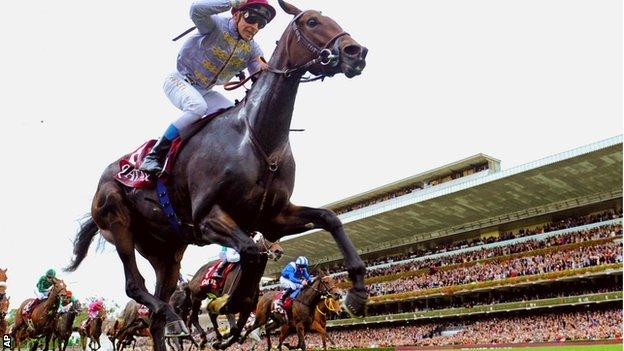 Treve will next year try to become the first horse to win the Prix de l'Arc de Triomphe for a third time after the decision to retire her was reversed.
"It's a case of the dust settling," Harry Herbert, racing manager for Al Shaqab Racing, told BBC Sport.
"Winning a third Arc would give her a fantastic place in the history books."
Herbert added the Sheikh had changed his mind after he and his family visited Treve's trainer, Criquette Head-Maarek.
He said: "They chatted and ended up saying: 'She's in fantastic condition, fit and well, so why not?"
Analysis: BBC racing correspondent Cornelius Lysaght
"This can be seen as a sporting decision, but also as a bold one. This year's race is rated as decent rather than exceptional, and though Treve did the job in style, it was from a good, inside draw in the stalls, under an excellent ride and the physical problems that have sometimes hindered her were absent.
"They, of course, could return. So, it's quite likely that one or two not far behind - for example, Kingston Hill (4th) given a better draw and softer going - plus some of 2015's stars, whose names we hardly know yet, will be in a position to throw down mighty challenges.
"That said, there isn't a true racing fan around who won't be wishing them all a hearty 'bon chance'."
The 11-1 winner of this year's Arc had been written off in many quarters after three successive defeats, but an electric burst of pace secured victory at Longchamp.
In doing so, she became just the seventh horse to win the race twice, and the first to win successive titles since Alleged in 1978.
She was retired immediately after the race, not least because of back and feet problems she had suffered.
Herbert said: "Anyone who saw the Arc will know that those problems have been well and truly sorted.
"That said, her fans should know that she'll be carefully monitored and if at any time Criquette says 'no' then we'll stop straight away."
Herbert said there was no plan to bring Treve to Britain for Champions Day at Ascot on 18 October.
He added: "She'll have two or three runs before the Arc, and will start in June or July, maybe in the Grand Prix de Saint Cloud."