Kirsty Milczarek: Jockey retires at 29 because of neck injury
Last updated on .From the section Horse Racing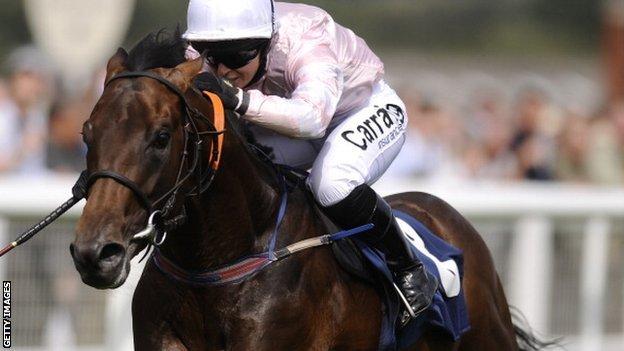 Jockey Kirsty Milczarek has been forced to retire at the age of 29 after failing to recover from a neck injury.
Milczarek was injured at Brighton racecourse last year, damaging her neck after hitting her head while coming out of the stalls in a race.
She had surgery for seven-and-a-half hours to replace discs in her spinal cord and was later told by doctors another fall could paralyse her.
"To be told your career has ended was shocking," Milczarek told GBI Racing.
In 2012, the Newmarket-based rider successfully appealed against a two-year ban imposed by the British Horseracing Authority in December 2011 for corruption.
On the end of her 10-year racing career, Milczarek added: "I guess deep down there was always a possibility that I would never be able to race-ride again but I always pushed those thoughts to the back of my mind.
"It's a unique injury and there just isn't the medical history to know exactly what processes to go through.
"I am still in a reasonable amount of pain and I have a persistent ache in my neck. Doctor Hill, who has been fantastic, told me that I if I had a fall in a race, there is a chance I could be paralysed."