Graham Bradley and Brendan Powell cleared of BHA charge
Last updated on .From the section Horse Racing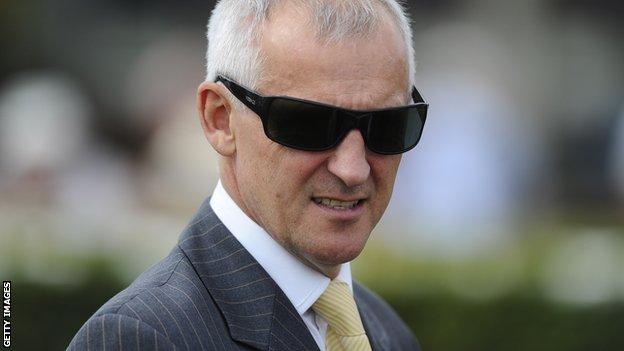 Trainer Brendan Powell and former jockey Graham Bradley have been cleared of a charge that Bradley trained horses under Powell's name.
An independent disciplinary hearing ruled the pair did not collude to allow Bradley, 54, to train horses.
Racing's governing body, the British Horseracing Authority (BHA), said it was "disappointed" by the ruling.
Bradley, who won the 1983 Cheltenham Gold Cup on Bregawn, received the ban in 2002 after he admitted passing on inside information.
BBC racing correspondent Cornelius Lysaght
"Graham Bradley was one of the most successful jockeys of the the 1980s and 1990s, but also one of the most controversial. After retirement in 1999, he was banned for eight years (reduced to five on appeal) after admitting selling inside information to drugs baron Brian Wright, who is now serving 30 years in jail.
"This decision would appear to bring closer the likelihood that Bradley could return to the front ranks of racing as a trainer, something that the powers-that-be have made little secret they'd be alarmed about because of his past misdeeds. But any further attempt to stop him would look simply vindictive."
He submitted an application to the BHA, which has yet to be considered, for a training licence in May 2013.
Following a three-day independent BHA disciplinary inquiry, the panel found that Powell and Bradley had not breached any rules of racing.
"We are obviously disappointed at the disciplinary panel's verdict, but it is impossible for us to comment further at present without being in possession of the panel's reasons for their decision," said BHA media manager Robin Mounsey.
Mounsey says horse racing's governing body will now meet with Bradley to discuss his application for a training licence, which was put on hold because of the case.
"It is too early to comment on how this process will now pan out but we will be in contact with Bradley to discuss the status of his application in due course," he said.
"Again, the disciplinary panel's reasons will be integral to the way in which this matter is taken forward."
Powell, who as a jockey won the 1988 Grand National with Rhyme 'n Reason, is now based in Upper Lambourn, Berkshire, where he trains horses on the Flat and over the jumps.