Melbourne Cup: Two horses die after race at Flemington
Last updated on .From the section Horse Racing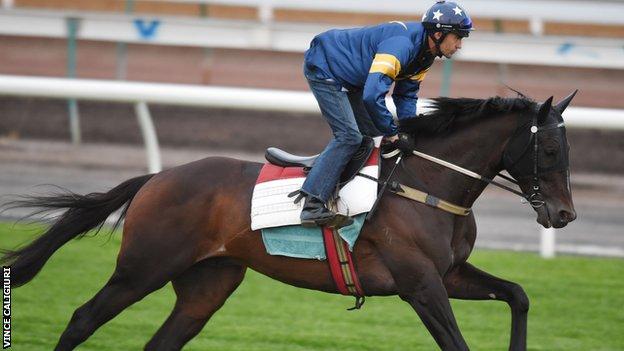 A second horse has died following the 154th running of the Melbourne Cup, Australia's most famous horse race.
Seventh-placed Araldo was put down after suffering a serious leg injury in a freak accident.
It came after the Japanese-trained favourite Admire Rakti collapsed after finishing last in the race won by German challenger Protectionist.
Victoria Racing said early indications from the autopsy showed Admire Rakti had died of a heart attack.
In the 35 years before the 2014 running, three Melbourne Cup horses suffered fatal injuries.
BBC racing correspondent Cornelius Lysaght
"The horse racing authorities in Australia are under even more pressure from animal welfare groups than their counterparts in Britain, so this is devastating news all round.
"Officials are insisting (correctly in my view) that everything is done to make the Melbourne Cup and racing as a whole as safe as it possibly can be for all participants, and remember this a country reeling from the deaths of two jockeys last month.
"The grim reality is that however hard you try it will never be 100% safe."
A spokesman for organisers Racing Victoria said Araldo was spooked by a flag being waved by a member of the crowd while returning to the mounting yard following the race, kicked out and fractured its hind leg on a fence bordering the path.
"It is with sadness that we confirm that Araldo has had to be humanely euthanised as a result of the injury it suffered in a freak accident following the Emirates Melbourne Cup," Racing Victoria head of veterinary and equine welfare, Dr Brian Stewart, said.
"The horse received immediate veterinary care and was transported to the University of Melbourne Veterinary Hospital, however, sadly the fracture in its pastern was not repairable.
"The owners made the decision to humanely euthanise Araldo in the best interests of the horse."
Araldo's jockey for the race was Dwayne Dunn and the horse was trained by Mike Moroney, who won the 2000 Melbourne Cup with Brew.