Solwhit: Leading hurdler dies after fall in training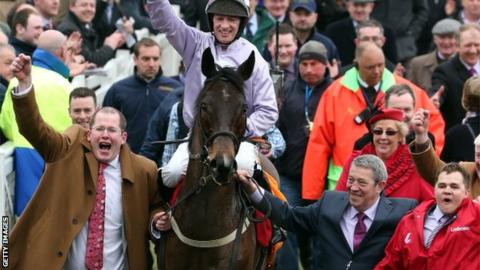 Leading hurdler Solwhit has died after a training fall in Ireland.
The 10-year-old horse won eight Grade One races, including last year's World Hurdle at the Cheltenham Festival and the Liverpool Hurdle at Aintree.
Solwhit, trained by Charles Byrnes, was schooling over hurdles when he tipped over and broke his shoulder.
Byrnes said: "It's very sad. He's been a very special horse, the best I've trained by a very long way, and we had a great day with him at Cheltenham."
Solwhit missed last season but was due to return to action later this year.
The horse was put down following the fall on Friday in Tipperary.
Winning 15 of his 28 starts, Solwhit earned more than £950,000 in prize money. He also chased home dual champion hurdler Hurricane Fly in a number of memorable clashes.