Jonjo O'Neill: Can he join legends Fred Rimell and Fred Winter?

By Cornelius Lysaght
BBC horse racing correspondent
Last updated on .From the section Horse Racing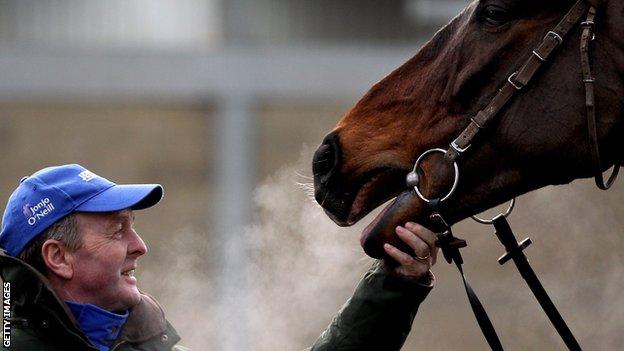 It is that most elusive of sporting achievements, the champion sportsman or woman who scales the identical dizzy heights in a different walk of the same life.
In the modern era, the only champion jockeys to have subsequently lifted one of racing's trainers' titles are national hunt legends Fred Rimell and Fred Winter.
Rimell, leading, or joint-top, rider four times immediately before and after the Second World War, went on to head the trainers' list during five seasons, saddling in the process a quartet of Grand National winners - a record.
Winter also won four jockeys' championships, during the 1950s, and was, with John Francome as his number one rider, dominant in the seventies and early eighties, taking the trainers' championship on eight occasions.
Now, in the 2014-15 campaign, there's a growing feeling that Jonjo O'Neill may be on the threshold of joining their exclusive club.
Going into the landmark three-day Open meeting, the first of the big Cheltenham fixtures that lead to the course's Festival in March, O'Neill, 62, a hugely charismatic two-time champion of the 1970s, heads the prize money-judged table.
And with fancied runners in the Open's feature races, the £160,000 Paddy Power Gold Cup and the StanJames.com Greatwood Hurdle, worth £100,000, he could easily extend his lead and cross the half-million pound barrier.
O'Neill has been on top before only to fall behind as regular protagonists Paul Nicholls and/or Nicky Henderson flex their impressive muscles, but this time things are maybe different.
The string of 120 or so horses housed in the ultra-modern Jackdaw's Castle training base, high up in the Cotswolds, only a few miles from Cheltenham, looks to have more quality than ever.
Recent Carlisle winner Shutthefrontdoor has joined Holywell and Taquin Du Seuil on the growing list of Cheltenham Gold Cup possibles, while it will not be long before we see unbeaten long distance hurdler More Of That back in action.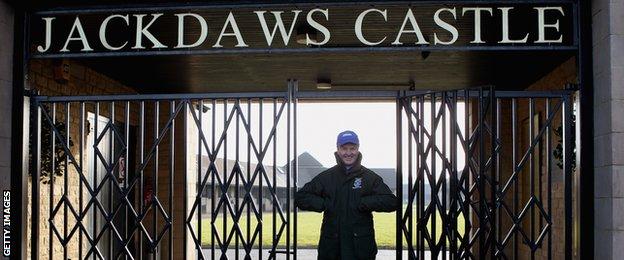 And whereas once O'Neill, who partnered the brilliant mare Dawn Run to become the only horse to win both the Champion Hurdle and Gold Cup (1984 and '86), smiled modestly and downplayed title talk, he no longer does.
He said: "I'd love to win it. Of course, I would - there's no point being in the game if we are not ambitious, and this is the first time we've had a few more decent horses and we'll give it a go.
"We're hoping that we hit the targets with them, and if we do we're there with a chance. If we're still in there with a chance at Cheltenham [Festival] time we might have a chance of winning it."
But the man whose outlook on life is tempered with the sense of perspective that accompanies being diagnosed with - and then overcoming - cancer, is still anxious to keep his feet on the ground.
"We had just two runners at the weekend," he said, "and Paul [Nicholls, the reigning champion] had five winners.
"A horse like Shutthefrontdoor is not going to run a lot, and you need them running every week, following on from Saturday to Saturday, picking up fifty grand races every Saturday. But, as I say, we'll give it a go."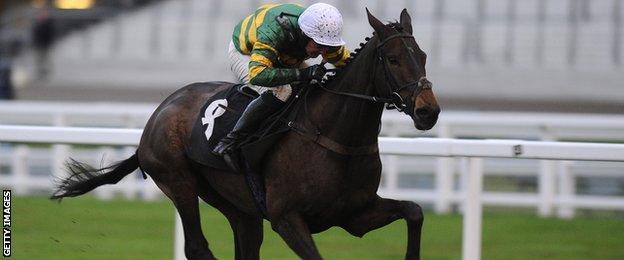 O'Neill and his team at Jackdaws Castle, the stables owned by principal patron JP McManus, have been putting the finishing touches to the preparation of their Open meeting contenders.
Heading them is course specialist, John's Spirit, the mount again of Richie McLernon as they seek to defend their Paddy Power Gold Cup crown with much more weight in the handicap; they're joined in the race by outsider Eastlake.
Goodwood Mirage, meanwhile, is facing a step-up in class, but is rated a big improver, and will go off as one of the favourites for the Greatwood Hurdle.
Talk of Goodwood Mirage, the horse on whom AP McCoy won his 150th race of the season but was in such pain afterwards that he could not remove the saddle, brings us on to chatting about the champion jockey and his injury woes.
He is out of action at least until late November with a troublesome shoulder.
As McManus' retained jockey, McCoy has been on board many of O'Neill's runners, including Grand National winner Don't Push It and Synchronised, when successful in the Cheltenham Gold Cup.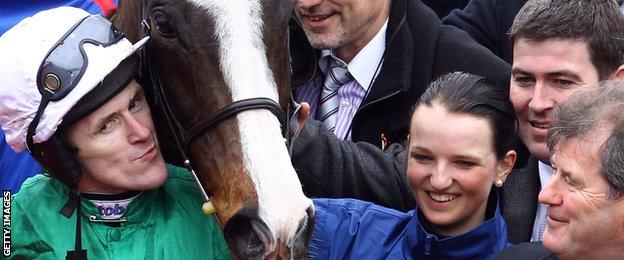 The trainer said: "He's very sore - I wish he'd given up a week or two earlier to be honest because you could see he was very sore. But it's easy for us all to give advice; if he wasn't like that he wouldn't be who he is today.
"All the jockeys do that, and if you weren't born that way, you wouldn't be doing the job. If you don't have the hunger you are not going to be top man, are you.
"I'm just disappointed he's not here for this weekend, but that is only me being selfish really."
McCoy, currently abroad, hoping sunshine aids his recovery, will rue any winners missed, but if O'Neill, a close friend as well as work colleague, edges closer to a first training title, it will ease the pain at least slightly.