Wetherby: Charlie Hall Chase run over wrong distance for five years
Last updated on .From the section Horse Racing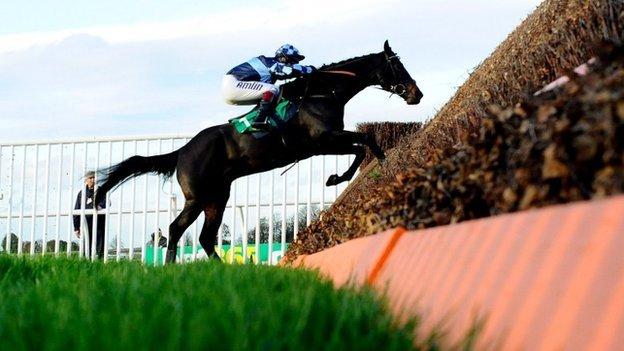 A Wetherby race that was supposed to be three miles and 'about' one furlong has been staged 78 yards too short for five years.
The Charlie Hall Chase, one of Britain's longest Grade 2 National Hunt races, was not long enough by around the width of a rugby pitch.
The British Horseracing Authority (BHA) found four out of 10 race distances used at the track were incorrect and the start will be moved.
Menorah won this year's edition.
Revisions at Wetherby

The start of the 3m 1f Steeplechase has been moved 84 yards backwards.

The start of the 3m 1f Hurdle has been moved forward 125 yards.
The 1m 5f Bumper course will now become 1m 4 1/2f.

The 2m 4f Hurdle course will now become 2m 4 1/2f.
Jamie Stier, BHA director of raceday operations and regulation, said: "It is unacceptable that the hurdle and chase courses at Wetherby have for some time been operating over incorrect distances in some instances.
"Accuracy of information is crucial to both punters and licensed persons and it is for this reason that back in October BHA made it a requirement for the effect of any running rail movements on race distances to be published alongside going reports."
The authority and officials from the West Yorkshire course believe the errors go back to November 2009 when the chase and hurdles tracks were swapped over, with steeplechases moved to the inside of the track.
The BHA said that as the margin of error was relatively small in all cases, the decision had been made that no races will be made void and Wetherby will not be penalised.
But all National Hunt tracks will now be re-measured.
BBC racing correspondent Cornelius Lysaght
"The error may have been relatively marginal, but if you backed a horse that's just failed in a race at Wetherby in the last five years, you won't be happy. And the authority is sure to be accused of double standards: on the same day, it caused the disqualification of a horse and fined his trainer over an entry technicality - an important one, but still a technicality - neither its officials nor those at Wetherby are penalised over a pretty glaring cock-up that's affected dozens of races."
Wetherby steeplechase committee chief executive Jonjo Sanderson welcomed the move.
"We support today's suggestion by the BHA, that the methodology by which National Hunt racecourses are officially measured should be reviewed and, if necessary, updated, in order to avoid a repeat of an incident of this nature at some point in the future," he said.
"Wetherby wishes to acknowledge its part in this unfortunate error and apologises to all parties affected by this since 2009. Furthermore, we are naturally extremely grateful that this discrepancy has been brought to our attention."
The anomaly was exposed by Daniel Barber and Simon Rowlands, of racing analysts Timeform.