AP McCoy admits likely defeat in chase for 300 season winners
Last updated on .From the section Horse Racing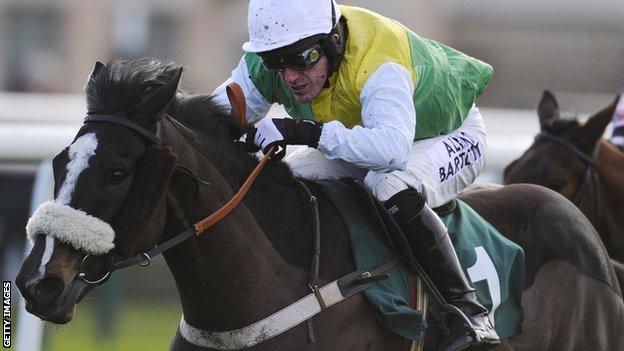 Champion jockey AP McCoy has admitted his quest for a record 300 winners in a season is likely to have been ended by injury.
McCoy, who holds the jump racing record of 289 seasonal winners, said of the 300: "It looks very unlikely although you never say never and never give up.
"I'm not saying it's impossible, but it's not going to be easy."
The 19-time champion is renowned for bouncing back from injuries in a career which has seen him break both collarbones, shoulder blades, his lower and middle vertebrae, ribs, cheekbones, a leg, ankle, arm and wrist.
He took a short break after injuring his ribs in a fall at Worcester last month but returned before his current spell out.
"I was just sore when I came back riding the last time. I had aspirations to ride 300 winners and I probably should have taken more time out," he told BBC Radio 5 live.
"When I got to the point of riding my fastest 150th winner I was well aware there's only 365 days in the year, and that means you have to ride a winner for 300 days.
"You can't afford to miss days so it's going to be very, very difficult."
McCoy reached the landmark of 4,000 career wins at Towcester in November 2013. No other jump jockey has recorded more than 3,000 wins.
Of his injury, he said: "I'm getting better. I'm going back to see my doctor on Thursday. I had a week away in the sun last week. Hopefully that will have helped me.
"I just want to get myself 100 per cent. We've got a lot of good horses to come back and ride."
Despite his injury, the rider remains on course for a 20th consecutive title in April - he has 152 winners, 66 ahead of nearest rival Richard Johnson.