Seven jockeys banned after Sedgefield flag confusion
Last updated on .From the section Horse Racing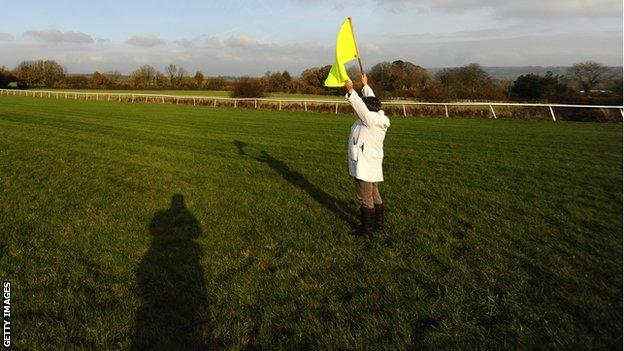 Seven jockeys have been banned for 10 days for ignoring a yellow flag waved in error by a steward at Sedgefield.
A chequered flag, telling jockeys to avoid a fence, should have been waved, and although the race continued, it was declared void and all bets refunded.
The Professional Jockeys' Association says the riders may appeal.
Richard Ford's Debt To Society had held off the favourite Apache Society to win the three-miles-three-furlong contest by a neck.
The incorrect flag was shown on the first circuit and had been intended to warn riders to avoid a fence because of the low sun.
By the time the runners passed the same fence on the second circuit the correct flag was in use, but a stewards' inquiry was called at the finish.
A frustrated Ford said: "It is quite a bizarre set of circumstances, but surely it didn't affect the result - because of the low sun the jockeys couldn't really tell which flag he was waving anyway.
"As I understand it all the jockeys are getting 10-day bans, too. It just doesn't make any common sense."
But a British Horseracing Authority spokesman said: "This is not a discretionary rule and it is very clear. Once the stop-race flag has been deployed, the jockeys must stop riding and the race must be declared void.
"It is not up to the jockeys to decide whether the stop-race flag has been deployed correctly or not."
Cornelius Lysaght, BBC racing correspondent
"The decision to void the race after an error that made absolutely no difference to anybody seems bizarre. The argument will be, of course, that riders ignored a signal to stop, and that would stand up in court because it's technically correct. However, surely with no harm done, they could all have worked something out instead of perpetrating another set of circumstances that make racing look ridiculous in the modern world. After Wetherby and Wincanton and now this, whatever next?"
He added: "Of course the riders have the right to appeal the decision or penalty if they wish."
It is the latest in a series of bizarre incidents to affect the sport.
It was revealed this month that incorrect distances were used for over five years at Wetherby and there was also an unqualified winner at Wincanton.
After Tuesday's voided race, course owners ARC apologised for the inconvenience to those involved in the race.
"ARC will be following up with all the connections of the seven runners and making appropriate compensation to each one," said racing director Jim Allen in a statement.
"The team at Sedgefield will review the incident with the British Horseracing Authority in order to ensure such an error cannot occur again."
ARC's compensation will be to pay out the prize money on the result (1st, 2nd, 3rd, 4th), and make £200 payments to the owners of the three other runners in the race.