Ryan Mania: Grand National-winning jockey retires at 24
Last updated on .From the section Horse Racing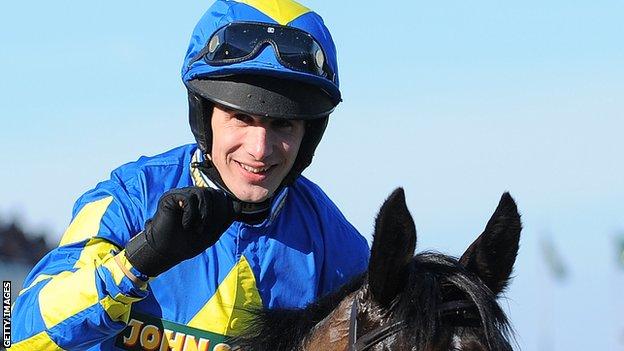 Grand National-winning jockey Ryan Mania has announced his retirement from the saddle at the age of 24, saying he no longer "got a kick out of winning".
Just 24 hours later, Mania was airlifted to hospital following a crashing fall at Hexham, in which he suffered a neck injury.
Mania has taken a previous sabbatical, in 2011.
His biggest win since Auroras Encore came on the Sandy Thomson-trained Seeyouatmidnight back at Aintree in April.
Mania cited an ongoing battle with his weight as the main reason for his decision to retire.
Cornelius Lysaght, BBC racing correspondent
"When Ryan Mania won at Aintree, the photogenic, articulate young man from the Scottish Borders seemed to have the racing world at his feet. After a tumultuous time for the big race because of the deaths of horses, Mania, the first Scot to win in over a century, was a crucial part of the story which put the race back in the nation's good books. We've heard the apparent reasons behind this decision, but whether he stays away, we'll maybe have to wait and see."
"Of course I am sad that I am stopping, but it has been at the back of my mind for some time," he told the Yorkshire Post.
"People don't always see the sacrifices that jockeys have to make if they're to make the weight.
"I'm not being fair to myself if I carry on being miserable; this is different to last time, when I always knew I would come back riding at some point. I rode four winners the other week and I just didn't get that kick out of winning."