Splash Of Ginge adds colour at Cheltenham International meeting

By Cornelius Lysaght
BBC horse racing correspondent
Last updated on .From the section Horse Racing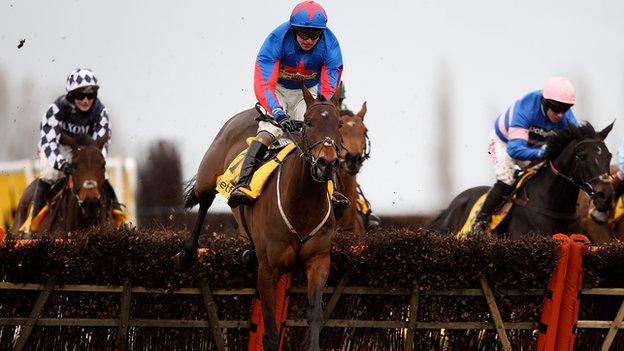 Inevitably, it's the jockeys and the trainers who tend to grab a majority of the horse racing headlines.
They do what you might call the front-line duties; the riders shrugging off the risks involved to try to get their mounts in front, after the trainers and their staff have put in the hard work of getting them to the races.
However, it is, of course, the bill-paying skills of the horses' owners that actually keep an increasingly expensive show on the road.
And during 2014, two have made a particular impression: one is the syndicate made up of the Preston family and friends, named owners of the year courtesy of their popular two-mile champion chaser Sire de Grugy.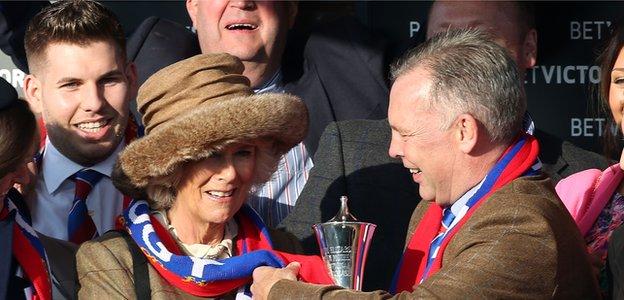 The other is John Neild, in whose silks Splash Of Ginge sprung a 33-1 shock in Newbury's valuable Betfair Hurdle back in February.
The joyous scenes of barely-bridled celebration that followed the victories scored by both horses demonstrated just how much appearances in the big league meant to relatively small-time owners and their friends.
To be honest, they probably provided a worthwhile reminder that however much racing is an important industry, on whose success the employment of thousands rides, it is also a sport, there to be enjoyed.
Now, Merseyside-based Neild is hoping to be make waves once again as Splash Of Ginge, trained by Nigel Twiston-Davies, lines up in the Caspian Caviar Gold Cup at Cheltenham on Saturday.
"We made a lot of noise at Newbury," explained lifelong Liverpool fan Neild, 45, on the eve of the Cheltenham feature, "because the Reds had beaten Arsenal 5-1 - we were 4-0 up after about 20 minutes - and we had them doubled with the horse.
"There were 40 of us, and it felt like printing money as a tenner double, Liverpool and Splash Of Ginge, won £900 - we're a mix of both Reds and Blues, and the Evertonians were on too.
"We went to the pub near Nige's stables on the Saturday night and never got out again until Tuesday - everyone probably ended up with written warnings.
"Obviously, owning horses is an expensive thing to do, but when you get results like that, it's just fantastic, unforgettable."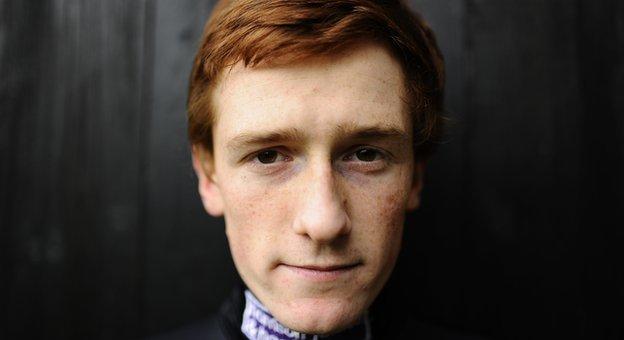 Splash Of Ginge has a major trophy at Cheltenham as his next target, but it's no major surprise to hear that the six-year-old is likely to one day end up at Aintree in the Grand National.
It was on that basis the horse joined the Twiston-Davies team - winners of the Aintree feature with Earth Summit (1998) and Bindaree (2002) - based just outside Stow-on-the-Wold in the Cotswolds.
Neild, whose silks are both blue and red to reflect the mixed footballing allegiances of his family and friends, explained: "I said to Nige it's okay if he doesn't win any other race, but win the National.
"It sounds a bit Judy Garland, but I had a dream years ago that I'd win the race with a horse called Splasher, so the name came about through that and the fact my Dad's called 'Ginge'.
"The powers-that-be didn't allow the Ginge part of it to start with because they said it might be considered offensive to redheads.
"But I convinced them I could produce a Dad, a brother and all kinds of nephews and nieces who'd all confirm they wouldn't need to go into counselling on hearing the name, so we got it."
Trainer's son Sam - another ginger - is regular rider, but, as new number one jockey to champion trainer Paul Nicholls, he will be on favourite Caid Du Berlais at Cheltenham, though later on, he will be riding his father's hurdling star The New One in the StanJames.com International Hurdle.
So up-and-coming Ryan Hatch, on board at Newbury, receives the call-up once again.
"Everything's set," said Neild, director of a renewable energy company. "My only worry is my phone call at 10 in the morning asking for tickets to get in - I've got two minibuses turning up this time.
"Coming from Liverpool, we love the acting, and I've started putting on a voice for when I first speak to the clerk of the course in case he recognises it's me and just puts the phone down."
As for the race, he added: "The horse disappointed last time, but the trainer says he's in good form and schooling well, and he's really keen on having a go.
"Not too many people are talking about us or tipping us which is good because in Liverpool we all like an underdog."
And this time any racing/football combination bets will be rolling the other way as Liverpool don't play Manchester United until Sunday lunchtime - also as underdogs. Do I feel another double coming on?
The big chase is at 1400 GMT on Saturday. You can follow updates from Cheltenham on BBC 5 Live.