Gels and foam help make up low-calorie Christmas lunch for jockeys
Last updated on .From the section Horse Racing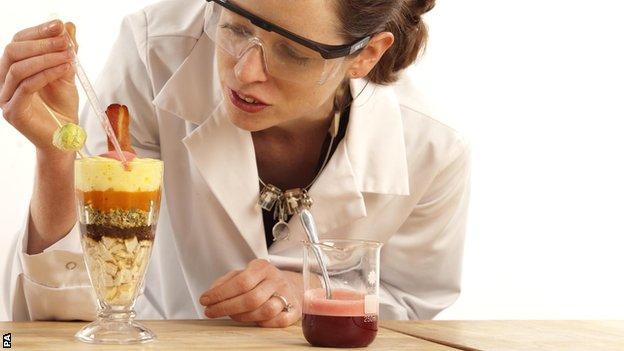 Fancy swapping your plate of succulent turkey breast, crispy roast potatoes and lashings of rich gravy this Christmas for a glass of turkey gel, potato-infused foam and dehydrated Brussels sprouts?
While most Brits pile on the pounds over the festive period, jockeys up and down the land usually make do with water and crackers in a bid to keep the weight down.
But now food scientists have come up with a low-calorie alternative to Christmas lunch.
Dr Rachel Edwards-Stuart created the 294-calorie dish, which comprises:
Turkey gel

Umami-rich gravy

Carrot fluid gel

Dehydrated Brussels sprouts

Potato infused foam

Cranberry "air"

A pancetta crisp topping
To round it off, an espresso-style shot of mince pie extract is served with a spoonful of powdered brandy butter, adding up to an extra 38 calories.
Dr Edwards-Stuart admitted the task, set by bookmakers William Hill, was a challenge but hoped the "layered dish full of different flavours and textures" would appeal to jockeys.
Champion jockey AP McCoy described the meal as a "great invention" and would stop him feeling "a bit left out" at Christmas.