Welsh National: Jockey Aidan Coleman faces BHA whip inquiry
Last updated on .From the section Horse Racing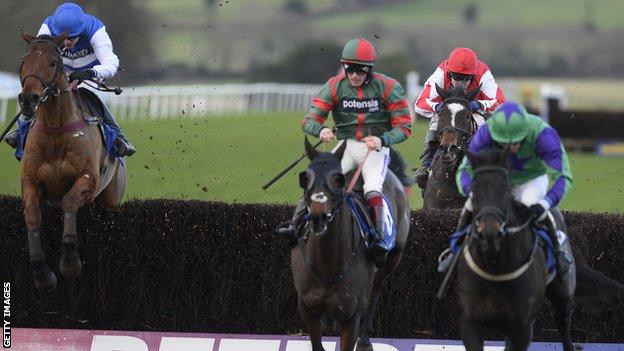 Jockey Aidan Coleman is to face a British Horseracing Authority inquiry over claims he breached whip rules when winning last month's Welsh National.
No action was taken on the day against Coleman, 26, by stewards at Chepstow Racecourse after he won on Emperor's Choice, trained by Venetia Williams.
The BHA will hold an inquiry into the claims on 16 January.
"We are shocked by this decision," said Professional Jockeys' Association chief executive Paul Struthers.
"We have asked the BHA for a formal explanation as to why this is happening and expect, in the interests of fairness, that the full team of stewards that were on duty at Chepstow on Welsh Grand National Day are present next Friday."
Coleman, who won by a short head, said it was the biggest victory of his career.
BHA spokesman Robin Mounsey said: "No inquiry was held on the day because the priority in the aftermath of the race was to deal with the false start and an inquiry was held into that incident.
"Upon initial review of the race, no potential offence was identified, however, a subsequent review showed there to be a case to be answer and Aidan Coleman has been notified of the intention to inquire into the matter on Friday.
"As with other sports there is the capacity for inquiries to be held retrospectively into offences which are not dealt with by the officials on the day. If BHA identifies a potential breach of the rules it has an obligation to hold an inquiry into it."