Jamie Moore: Sire De Grugy injury news brought me close to tears

By Cornelius Lysaght
BBC horse racing correspondent
Last updated on .From the section Horse Racing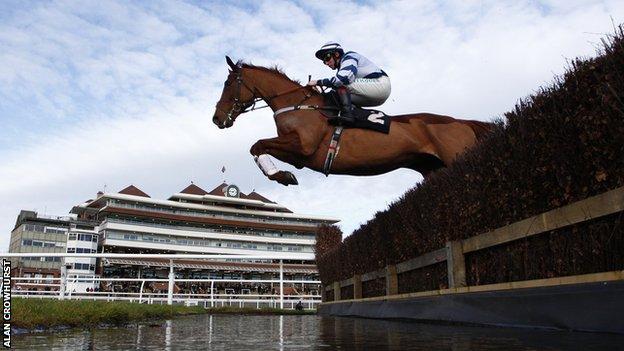 Jockey Jamie Moore admitted to being "close to tears" when receiving the news that reigning Queen Mother Champion Chaser Sire De Grugy had suffered a potential season-ending hip injury.
It was in November, eight months after Moore had steered the nine-year-old, trained by his father Gary, to a never-to-be-forgotten success in the Cheltenham Festival's two-mile chasing feature.
The win was the fourth leg of a swashbuckling run of five victories on the bounce which had lifted the Sussex-based Moores, not previously a high profile outfit, into the limelight.
With 30-year-old Jamie's older brother, Flat racing star Ryan, being named best jockey in the world in 2014, it had been quite a year for the family.
Suddenly, doubts were being raised about Sire De Grugy, who had stormed to a six-length win at Cheltenham, being able to defend his crown in March.
As it turned out, the injury was not as serious as first feared, and the horse is all set for a much-anticipated if belated return to the track in Saturday's Betfair Price Rush Chase at Newbury.
But the memory of being told about the setback by his father while en route to ride at Bangor-on-Dee races, is as clear as if it had happened yesterday for Moore.
He told me: "I thought it was my fault because I ride him out every day, so I placed the blame on myself. I thought maybe I had done too much with him one day.
"I thought he was out definitely for the season, or even longer, and I was close to tears after Dad phoned me on the way to Bangor races, but thankfully we've been able to get him back OK."
The popularity of Sire De Grugy is, obviously, partly down to his exploits on the track, and also to the fact that members of the popular Moore family are part of the story.
But also playing a major role in the fairytale are principal owner Steve Preston, and the family and friends who clubbed together to partly-purchase 'SDG' as a 50th birthday gift for Steve, who paid the rest.
Being fans of Crystal Palace, their jockey's silks are in their football team's red and blue colours, as are the scarves they all wear while supporting the horse as passionately and noisily as if they were in the stands at Selhurst Park.
Even the Duchess of Cornwall, who presented the Queen Mother Champion Chase trophies, was caught up in the post-race frenzy with one of the scarves being draped around her shoulders.
Described as being "part of the family" by his jockey, the 'Jumps Horse of the Year' is said by his trainer to be "ready to do himself justice" at Newbury.
That said, when asked what their ever-growing number of fans can expect as they face only a handful of rivals, Jamie Moore believes only one result will do.
"Expect him to win," he said. "If he doesn't win there, he probably won't win the Queen Mother."
The winner of just under 40 races so far this season went on: "I want him to win every race he goes in - we don't use these races as a trial, and all that rubbish - I'd rather crack on and try and win races.
"We haven't given him a racecourse gallop because we thought we might as well try to get some [prize] money.
"He's working fine, and he feels like exactly the same horse as he was last year, so there's no reason why he shouldn't win and then progress again."
All being well, Sire De Grugy will then head to Cheltenham for a showdown with 2013 two-mile champion Sprinter Sacre - himself just back from a heart condition that kept him away from last year's big race - in what will be a hotly anticipated clash.
They call the early February fixture at Newbury - where the course has been swathed in anti-frost covers for more than a week - 'Super Saturday' because a series of big names will be on show a month before the Festival.
All kinds of big-race clues will be available, as they will be at Leopardstown in Ireland the following day.
The feature there is the informative Hennessy Gold Cup for which Boston Bob and Carlingford Lough, fourth and fifth in the Dublin track's Lexus Chase at Christmas, head the field.
Having his pre-Festival race is defending Gold Cup champion Lord Windermere who lines up off the back of a seventh place in the Lexus, just behind the race favourites.