AP McCoy: Martin Pipe pays glowing tribute to retiring jockey
Last updated on .From the section Horse Racing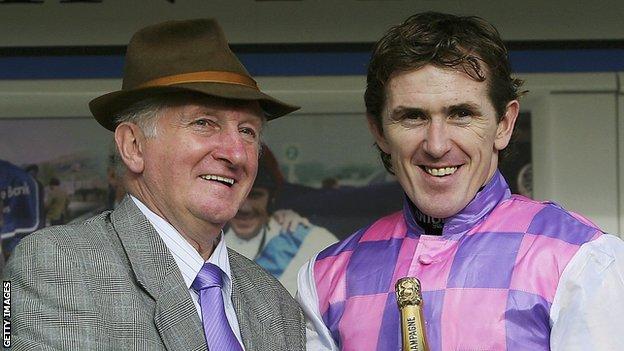 Former trainer Martin Pipe says racing has "prospered" for having AP McCoy as its champion.
McCoy, 40, who has announced he is to retire, is heading towards a 20th successive champion jockey title.
An estimated 1,154 of his 4,322 winners to date were for friend and mentor Pipe, for whom he rode for seven years.
And Pipe told BBC Radio 5 live's Sportsweek programme: "It really has been a privilege that he's ridden for me and we had all those winners."
McCoy's announcement came after claiming his 200th winner of the season on Mr Mole in the Betfair Price Rush Chase at Newbury on Saturday.
Pipe said: "It's going to be his 20th championship, we hope. He's never been beaten, he's always been champion.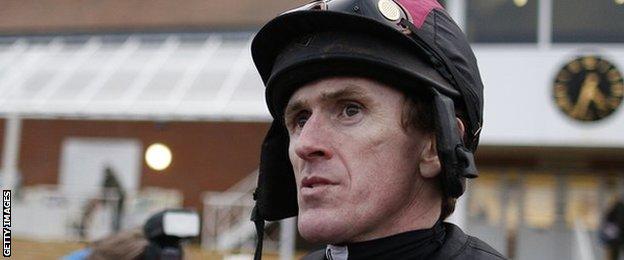 "Racing has really prospered by having AP as the champion."
Pipe was McCoy's boss for seven years from 1997 and trained 4,191 winners before retiring in April 2006 - McCoy passed that mark last season.
And Pipe, 69, said he had known McCoy was destined for greatness when he encountered the jockey as a 20-year-old: "We always knew he had something special. He just had that will to win. He encouraged the horses to relax and put their head in front on the line. They were as one, horse and rider."
Pipe is just one voice from the racing world to have paid tribute to McCoy:
The Trainers
Nicky Henderson: "It's absolutely incredible that he has managed to win 19 championships when you take that in the context of all other sports - it's right out there on its own. It couldn't happen in another discipline.
"What you have to remember is that this isn't ping-pong, it is a tough, rough, exhausting and gruelling sport.
"He is a credit to racing and I am very sad that his career is going to come to an end."
Philip Hobbs: "Very few jockeys ride 20 seasons, let alone win the championship 20 times. It's been great having him around, but it will be a big loss to racing when he goes."
Henry Daly: "He's a truly remarkable man and it's the end of an amazing era. I'm delighted and hopefully he's retiring in much as one piece as he can be after 20 years."
Willie Mullins: "We might have been expecting this the last three years, I'm shocked it hasn't happened until now, really.
"He's an iron man and obviously enjoys it and I'm happy for him that he has retired on his own terms. He can get on with enjoying the rest of the season."
Paul Nicholls: "It's great he's going out at the top of his profession - he can't go on forever.
"He's a brilliant jockey, a great ambassador for the sport and a really good guy. I think everyone is happy he's going out at the top."

The Jockeys
Ruby Walsh: "He is the consummate professional and has done everything that is good for racing. It will be a strange old place without him being part of it.
"He has set standards and targets that are going to be in the history books for a long, long time.
"He is just brilliant. What makes (Lionel) Messi so good, what makes (Cristiano) Ronaldo, what makes (Roger) Federer - they are just unbelievably talented."
Richard Johnson: "It wasn't the biggest shock in the world I suppose, but it's more set in concrete now.
"There'll be a few people relieved and will have a few more chances, but it's a great loss to lose him from the weighing room.
"We all know we'll get to that point sometime. It will be an even bigger shock after Sandown at the end of the season I suppose, but I'm sure we'll still see him around the racecourse and his achievements will live on for a long time."
Paul Townend: "All good things have to come to an end, but he's an incredible man. He's definitely someone for us all to look up to. He is a great role model."
Tom O'Brien: "All I can say it's been a privilege to have ridden with him. He's the best sportsman in the world, in my opinion."
The Pundits
Clare Balding, Channel 4 Racing: "When he is gone and we look back at all his records, we will ask what he had that no jockey had before, what did he have that no jockey has ever had? He is a phenomenon, a winning machine."
Mark Pougatch, BBC Radio 5 Live: "If you get a chance to go racing between now and the end of the season, do; take the chance to see the greatest jockey of all time."
Dan Walker, BBC Sport: "Hard to imagine racing without AP McCoy. Not sure we will ever see another quite like him."