Jim Culloty eyes Cheltenham Gold Cup and Grand National double

By Cornelius Lysaght
BBC horse racing correspondent
Last updated on .From the section Horse Racing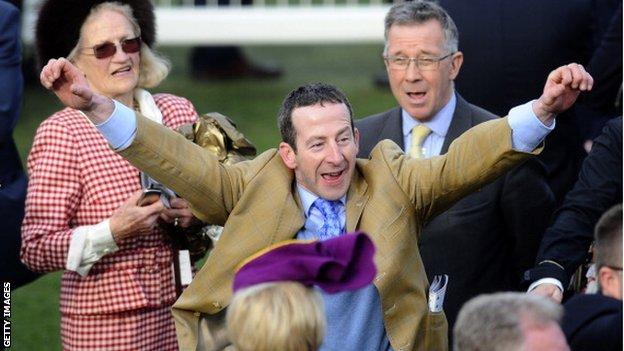 Jim Culloty won't be arguing with any theories about form being temporary and class permanent.
The winning jockey in a trio of Cheltenham Gold Cups on the great Best Mate now trains in his native Ireland, and is yet to saddle a loser at National Hunt's showpiece occasion in March.
Three attempts have resulted in successes for Lord Windermere in the RSA Chase in 2013, followed by the Gold Cup itself 12 months ago; that result came the afternoon after stablemate Spring Heeled - also owned by millionaire businessman Dr Ronan Lambe - had taken the Fulke Walwyn Kim Muir Chase.
To hit the heights like that during jump racing's classiest week in the calendar, and so early in his career, is pretty extraordinary.
Yet, as Culloty - only the fifth person to both ride and train the winner of the Gold Cup - prepares Lord Windermere for the defence of his title next month, his stable is struggling for form.
Cheltenham Gold Cup: Wins as jockey & trainers
Danny Morgan
(rode Morse Code 1938; trained Roddy Owen 1959)
Fred Winter
(rode Saffron Tartan 1961, Mandarin 1962; trained Midnight Court 1978)
Pat Taaffe
(rode Arkle 1964, 1965 and 1966, Fort Leney 1968; trained Captain Christy 1974)
Jonjo O'Neill
(rode Alverton 1979, Dawn Run 1986; trained Synchronised 2012)
Jim Culloty
(rode Best Mate 2002, 2003, 2004; trained Lord Windermere 2014)
Just three successes have been chalked up since that March afternoon when the Cheltenham stewards confirmed a short-head success following an agonisingly long inquiry into interference.
To be fair, it was the same this time last year, and Culloty takes comfort from a combination of that and the fact that he's convinced a previous debilitating infection has not resurfaced at his stables.
Speaking after Lord Windermere had put in his best performance since Cheltenham, when a creditable third in Leopardstown's Irish Hennessy Gold Cup, Culloty said: "Of course it's a concern when you see the horses aren't going up and winning.
"But if I look round my yard, and take each as an individual, there's Spring Heeled, I'm aiming him at the National.
"Next to him is Legal Exit - he's had a couple of runs on heavy ground, and he'll win when we get a bit of dry ground. And I've quite a few horses who've been second and third, but then the ground went bottomless and they couldn't handle it.
"I think we'll have some winners soon, and the horses are in good health.
"Just to be sure, I had the place checked over by your man from the equine centre to test the environment here, the stables and the hay and all that sort of stuff, and everything is fine."
Of Lord Windermere, who finished well beaten in the Lexus Chase at Leopardstown in December prior to that much-improved effort at the Dublin course in February, the trainer added: "He is a hold-up horse and at Leopardstown at Christmas the ground was bottomless, which he struggled with a bit, and the race just didn't work, but the horse came out of it well and I wasn't overly disappointed.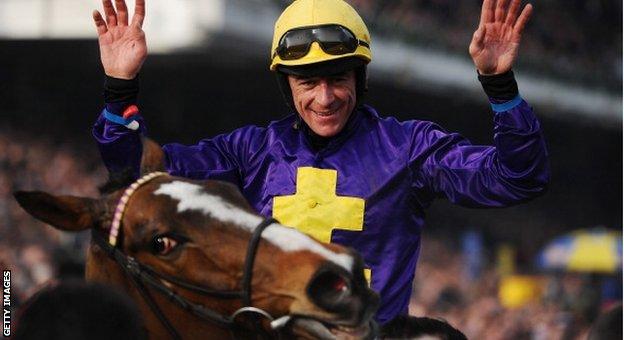 "Last time, we went into the race with different tactics - we wanted to be involved in the race a bit more - and I said to [jockey] Davy [Russell], if he can be upsides in front between the last two [fences], then may the best man win.
"He probably got to the front slightly sooner than that but he jumped himself there.
"I think it was very encouraging, and it's an open Gold Cup on a track where he comes alive, so all being well we're hoping for a good solid run, but to win again would be amazing.
"[Trainer] Henrietta Knight, a consummate horsewoman, won three with Best Mate - if I won two I could nearly call myself a horseman."
Lord Windermere has been joined in the entries for the Cheltenham Gold Cup on 13 March by Spring Heeled.
Spring Heeled was a decent fourth in Ireland's historic Galway Plate last summer, but the £1m Grand National on 11 April is his principal target.
Success would see Culloty, 41, the race's winning jockey in 2002 on Bindaree, re-writing another piece of racing history as only the sixth person since the turn of the last century to both ride and train winners of the Aintree feature.
He would follow a glittering list of achievers, most recently Tommy Carberry who, with Bobbyjo in 1999, ended an Irish drought in the race that stretched back 24 years to when he himself had steered L'Escargot home to victory over Red Rum.
Grand National: Wins as jockey & trainer (since 1900)
Algy Anthony
(rode and trained Ambush,1900; trained Troytown 1920)
Aubrey Hastings
(rode and trained Ascetic's Silver 1906; trained Ally Sloper 1915, Ballymacad, war substitute race 1917, Master Robert 1924)
Fulke Walwyn
(rode Reynoldstown 1936; trained Team Spirit 1964)
Fred Winter
(rode Sundew 1957, Kilmore 1962; trained Jay Trump 1965, Anglo 1966)
Tommy Carberry
(rode L'Escargot 1975, trained Bobbyjo 1999)
Culloty said: "It would be a dream to do it. There are going to be 40 runners and I think we're currently around the 33-1 mark so I'm not going to hold my breath, but at the same time I could see him running very well
"Spring Heeled jumps and stays. The key to him now is good ground and if it came up soft he wouldn't even run; he doesn't jump out of soft ground, but once he gets good ground he bounces off it.
"He's got a bit of class and I don't think he's badly handicapped - though we'll have to see what weight the handicapper gives him - and he has a good attitude."
Considering the position of his magnificent Mount Corbitt stables, hidden away in 260 rolling acres between the County Cork villages of Churchtown and Buttevant, it is wholly appropriate that Culloty should be playing such a prominent role in racing history.
It was in Churchtown that legendary trainer Vincent O'Brien started his career with jumpers, before turning his talents to the Flat at Ballydoyle in County Tipperary, while Buttevant has an even more significant place in the sport's heritage.
It was from the village's church to its counterpart in nearby Doneraile that, in 1752, Mr O'Callaghan raced Mr Blake from steeple to steeple, giving us steeplechasing.
Annually, they re-enact the four-and-half-mile race, including crossing the River Awbeg, and clearing a string of hedges and ditches.
How Jim Culloty would love history to repeat itself at Cheltenham before presenting him with a new slice at Aintree.