Victoria Pendleton wants to race at Cheltenham in 2016
Last updated on .From the section Horse Racing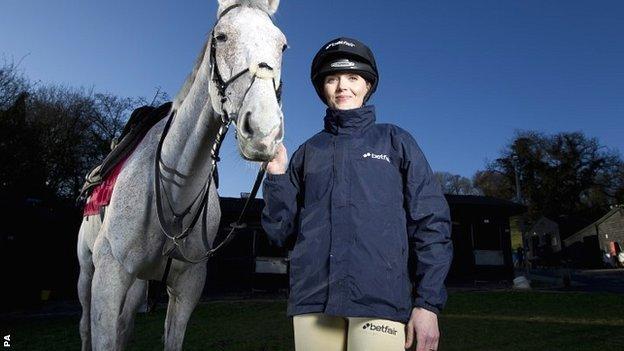 Former Olympic track cycling champion Victoria Pendleton says she plans to become a jockey with the ambition of riding at the 2016 Cheltenham Festival.
The 34-year-old Briton, who won gold at the 2008 and 2012 Olympics and quit cycling after the London Games, has already begun training.
She will receive guidance from Champion trainer Paul Nicholls.
"I've been looking for a new challenge," said Pendleton, who first sat on a horse a week ago.
"My team and I have identified the ambitious target of riding competitively in the Foxhunters Chase at Cheltenham Festival next year, but the initial focus will be on getting me to a level whereby I am granted an amateur jockey licence, which is a significant challenge in itself given that I had never even sat on a horse until a week ago."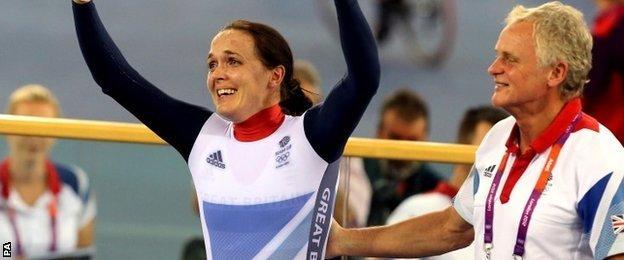 The former cyclist, who won gold in the keiren and silver in the sprint at London 2012, has appeared on Strictly Come Dancing and worked as a broadcaster since retiring from cycling.
She is hoping to obtain her Category A amateur licence which would allow her to ride in amateur races on the flat and over jumps, as well as competing in the point-to-point field.
In addition to working with Nicholls, Pendleton has already received tuition from Yogi Breisner, Eventing Performance Manager for Team GB.
Breisner said: "Victoria is a hugely talented, ambitious and gutsy individual, and these traits will stand her in the best stead possible for achieving this ambitious goal.
"Having worked with her for a week, the progress she has already made in such a small amount of time is quite frankly remarkable."
Eight-time Champion National Hunt trainer Nicholls added: "Victoria Pendleton is an outstanding athlete with a real drive and determination, so whilst this is an incredibly difficult challenge, these attributes are exactly what you need to become a jockey."