Lewis Ferguson: Jockey not put off by spectacular Wincanton fall
Last updated on .From the section Horse Racing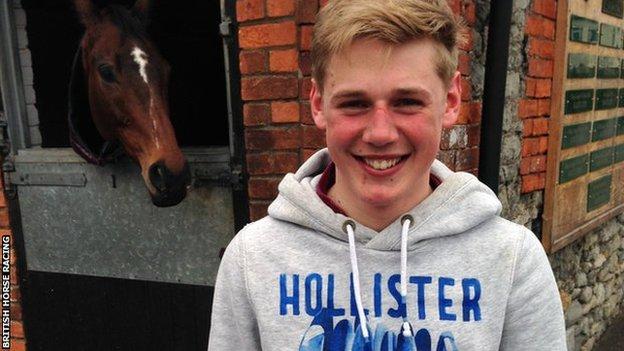 Jockey Lewis Ferguson says his spectacular fall from favourite Merrion Square has not put him off racing.
The 18-year-old was unseated before the jump and turned a full somersault through the air after hitting the top of the final fence at Wincanton.
It was the amateur's first ride over fences and he emerged unscathed, bar a cut nose - with the horse also uninjured.
"I'm fine, I feel no worse than I usually do so I'm all right," he said.
Wincanton clerk of the course Barry Johnson called it the worst fall he had ever seen.
Scotland-born Ferguson, who was racing for eight-time champion trainer Paul Nicholls, told Great British Racing: "It all just happened so quick, I didn't have time to think, it just happened in a blur.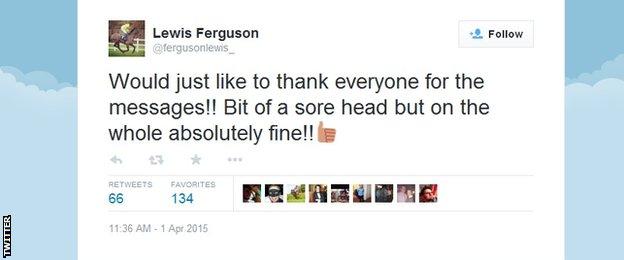 "I didn't think it was as bad as it was when I stood up, I was just a bit winded and was trying to get my breath back. It has not put me off."
Ferguson was able to walk away from the fall and has been tipped to have a "big future".
Nicholls told BBC Somerset: "If he'd landed on his feet he'd have got a 10 out of 10. It looked a horror fall but thankfully he was absolutely fine. He rode out first lot on Friday morning and you wouldn't know anything had happened. It's just dented his pride.
"He's a very capable lad, he rides very well. He's a lad with a big future, he just needs to get some experience.
"Apparently when he walked back into the weighing room, all the other jockeys gave him a round of applause."