Grand National 2015: Where did your horse finish?
Last updated on .From the section Horse Racing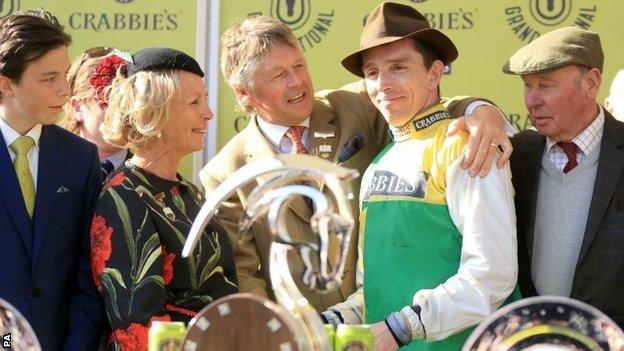 Many Clouds, ridden by Leighton Aspell, won the 2015 Grand National at Aintree, with Saint Are second and Monbeg Dude third.
Alvarado was fourth and AP McCoy's Shutthefrontdoor finished fifth.
Find out how your horse fared in the world's biggest steeplechase.
Place, horse, odds, jockey
1. Many Clouds 25-1 (Leighton Aspell)
2. Saint Are 40-1 (Paddy Brennan)
3. Monbeg Dude 40-1 (Liam Treadwell)
4. Alvarado 20-1 (Paul Moloney)
5. Shutthefrontdoor 6-1 f (AP McCoy)
6. Royale Knight 25-1 (Brendan Powell)
7. Tranquil Sea 33-1 (Gavin Sheehan)
8. Cause Of Causes 14-1 (Paul Carberry)
9. Soll 9-1 (Tom Scudamore)
10. Chance Du Roy 40-1 (Tom O'Brien)
11. Mon Parrain 33-1 (Sean Bowen)
12. Pineau De Re 25-1 (Daryl Jacob)
13. Owega Star 50-1 (Robert Power)
14. Spring Heeled 25-1 (Nick Scholfield)
15. Oscar Time 20-1 (Sam Waley-Cohen)
16. First Lieutenant 14-1 (Nina Carberry)
17. Rocky Creek 8-1 (Sam Twiston-Davies)
18. Night In Milan 20-1 (James Reveley)
19. Dolatulo 66-1 (Dougie Costello)
Non-finishers:
Fence 1: Ely Brown (fell), Gas Line Boy (fell), Al Co (unseated)
Fence 3: Rubi Light (unseated)
Fence 4: Corrin Wood (pulled up)
Fence 5: Unioniste (fell)
Fence 6: River Choice (fell)
Fence 8: Balthazar King (fell), Ballycasey (unseated)
Fence 19: Court by Surprise (pulled up)
Fence 25: Across the Bay (pulled up), Super Duty (pulled up), Lord Windermere (pulled up)
Fence 26: The Rainbow Hunter (fell), The Druids Nephew (fell)
Fence 27: Rebel Rebellion (pulled up)
Fence 28: Portrait King (fell)
Fence 29: Godsmejudge (pulled up), Wyck Hill (pulled up), Bob Ford (pulled up)
Distances: 1¾, 6, 3½, 1½, 2¼, 10, 2¼, 14, 10, 5, 1½, 6, 25, 2½, 3¾, 5, 2½, 3¼
Time: 8 minutes 59.10 seconds